A conversation with Tim Hollo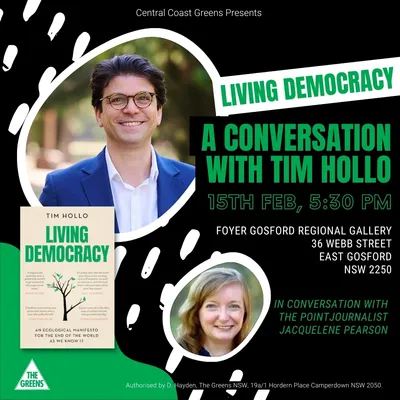 Truepenny Media's executive director, Jacquelene Pearson, will chat with Tim Hollo, author of Living Democracy, at the Gosford Regional Gallery, 5:30pm on Wednesday 15 February 2023, 36 Webb Street, East Gosford. Registration link: https://greens.org.au/nsw/CentralCoastLivingDemocracy
Narara Eco Village
On Sunday, February 26
THREE THINGS YOU CAN DO NOW FOR NATURE WORKSHOP AT NARARA ECO VILLAGE
Jacquelene Pearson is an independent ESG News publisher, a poet and a public interest journalist. In 2020 she made a commitment to dedicate the remainder of her productive years to campaigning for environmental justice, social justice and democracy. Join Jacquelene for a two-hour workshop on what needs to be done NOW to support nature on the Central Coast and how we, collectively, can be advocates and stewards for our local environment. We will collaborate, improvise, have a good laugh, and go home with an achievable 'to do' list. Watch this space for booking details
International Women's Day market at The Entrance
On Saturday, March 4, Truepenny Media, publishers of The Point ESG News Site will have a marquee outside at the Central Coast International Women's Day Expo at The Entrance Community Centre, Noberta Street from 10am to 3pm. Come and visit Jacquelene, buy signed copy of her poetry collection Mother's Song to raise money for violence against women and girls. Learn all about The Point ESG website and go in our prize draw. See you there.
Poetry workshop at Goulburn Mulwaree Library
On Saturday, 1 April Jacquelene Pearson will be hosting a poetry workshop at Goulburn Mulwaree Library from 10am to 2pm. Stay tuned for booking details.
Mother's Song poetry collection Goulburn Launch
On Saturday 1 April, at the Goulburn Club. Join us for afternoon tea and poetry from 3.30pm to 5.30pm. Stay tuned for booking information
Fresh Festival Wagga Wagga
Jacquelene Pearson has been invited by the Booranga Writers Centre to present at the Fresh Festival in Wagga Wagga on Friday, 21 April and Saturday 22 April. Stay tuned for more information