Read Time:
3 Minute, 9 Second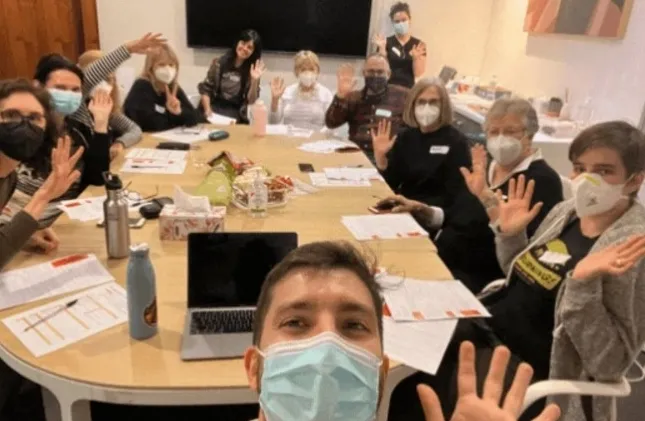 Forget about social media trends, opinion polls, leader debates and the six o'clock news, the 2022 federal election campaign is being fought by activists using some old-fashioned tactics – conversations and phone calls.
GetUp is having "calling parties" – training volunteers to call voters and encourage them to pledge to vote for politicians who will take meaningful and substantial action on climate change and First Nations justice.
Early in the campaign Sally McManus, Secretary of the Australian Council of Trade Unions (ACTU) was doing the rounds of union meetings and candidate forums, and her message was that 15 per cent of the voting population had not yet made up its mind about how it would vote on May 21.
McManus told trade unionists present that they each needed to have "five deliberate conversations" in an effort to end up with a federal government that would "get behind workers".
In terms of social equity, McManus highlighted the casualization of the workforce and the fact wages have not been keeping up with inflation.
"We have a once-in-a-generation chance to make a change for working people," she said.
It appears the trade unions are not the only ones resorting to hand-to-hand combat in the name of social and environmental justice and good governance.
According to a mass email calling for volunteers, the first Dial It Up party held by GetUp a couple of weeks ago "was such a success that attendees asked us to do it again!"
"Already this election, over 60 per cent of meaningful conversations GetUp members have with voters over the phone are resulting in them pledging to elect candidates committed to real action on climate justice, cultural heritage and health care." According to GetUp, a recent Guardian poll showed that 50 per cent of respondents said they were paying little to no attention to any election news, advertising or updates. "But the research is clear on what tactics do reach voters," GetUp claims.
"One-on-one conversations between real people are the most effective way to persuade someone to vote for more progressive candidates. "And from Marriage Equality, to ending Tony Abbott's 25-year reign in Warringah, to ousting hard-right MP Andrew Nikolic from Bass — we've proven that when GetUp members hit the phones to talk to voters, we can help win real progress.
"There's something truly special about the moment a voter says that this election, they're going to vote for justice, for their community."
"This election is going to be fought and won in battleground seats, where in some cases just a few thousand votes determines who wins and who loses.
"And this Saturday (May 14), we'll talk directly with voters in four of them. "We'll speak with voters in Goldstein, where hard-right Coalition MP Tim Wilson — former IPA head — is at serious risk of losing to independent Zoe Daniel as voters question his climate credentials.
"We'll also speak to voters in Leichhardt and Lingiari, seats which have been tight for decades and where First Nations people outnumber the electoral margin. "And we'll have hundreds of conversations in Macquarie — the most marginal electorate in Australia, held by just 371 votes — where local communities have survived devastating bushfires and floods in the shadow of the Morrison Government's climate inaction and failed leadership. "With pre-polling already open, we need to scale up and reach as many voters as possible." GetUp declares.
What you can do
If you are feeling frustrated about the lack of discussion around the big social and environmental issues, perhaps it is worth getting involved and making some calls for a direct action group such as GetUP.
Here's all the information you need to get involved.