Read Time:
16 Minute, 25 Second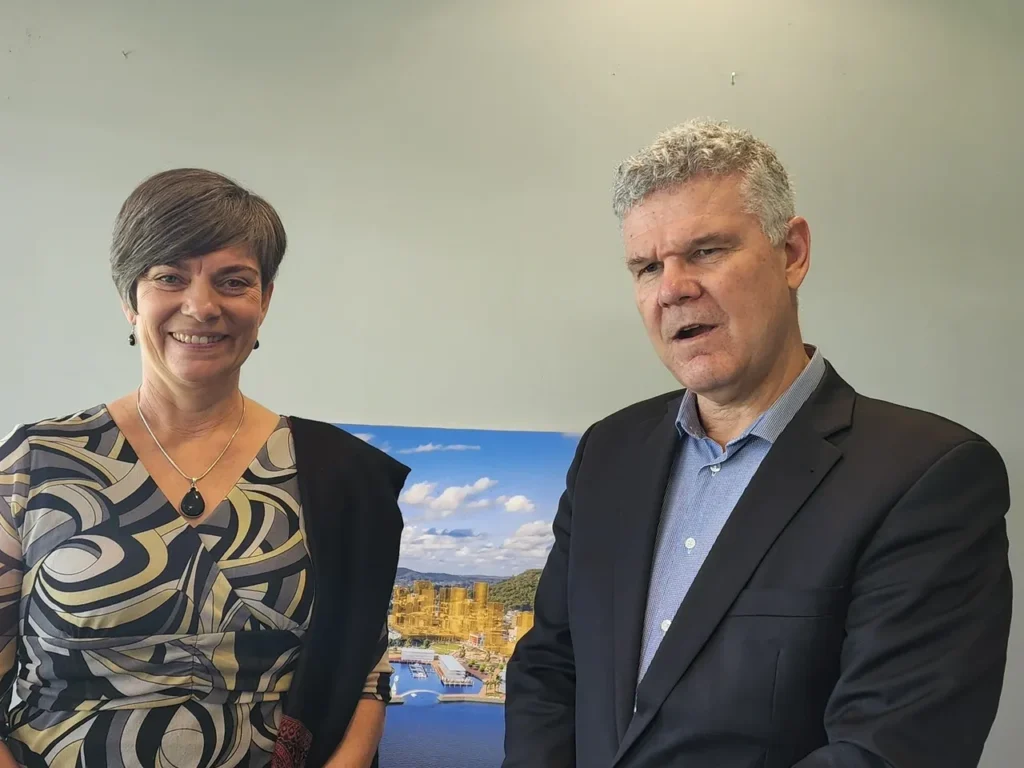 According to Rik Hart, administrator of Central Coast Council, the unveiling of the latest proposal to develop the Gosford waterfront will be "the start of something sensational".
By Jacquelene Pearson
Welcome to The Point's new local news section. Each week we will report on what's going on around our home, the NSW Central Coast, with our unique ESG lens. Let us know what you think. This week we're taking a deep dive into Council's latest proposal to develop the Gosford waterfront.
"As you are all aware there have been numerous attempts to have a crack at trying to do what we are going to have the final and successful crack at," Administrator Rik Hart told local journalists at a press conference on Wednesday, September 28.
The latest vision for the waterfront was initiated when a paper went to Council when interim administrator Dick Persson AM was still in the chair in April 2021. Persson delegated responsibility to David Farmer, CEO, to come up with options for the revitalization of the waterfront
"The paper that came back last night was a culmination of the efforts that David [Farmer, CEO] and Alice [Howe, director] and the team have put in to come up with the prototypes, if you like, of what could happen here into the future," Hart said.
Multiple times through the presentation Mr Hart repeated that "the timing is right" for the waterfront to be developed. That was not the case in 2018 when Gosford was given a Coordinator General and the Government Architect specifically excluded the waterfront from their proposal to revitalize Gosford's CBD.
"You will all be aware that the thing called the Six Cities Strategy is now in situ," Mr Hart said. "That evolved from effectively the three-city metropolis which was the original three cities which was a smaller Sydney between Western Sydney, Parramatta and the Sydney CBD itself. So that got expanded with bipartisan support to create the six cities strategy.
"That sets a blueprint as to what the state government of both political persuasions thinks will happen into the future," he said.
The Point has asked State Member for Gosford, Liesl Tesch to confirm Labor's support for the Six Cities Strategy and we will report her response when it comes through.
"It has allowed the government to come forward with the first thing which is faster rail connection between all of those six cities," Mr Hart said. That is part of their strategy to make sure that, in the future, wherever you live in the region, you will be no more than 30 minutes away from your workplace.
"So we are now part of that, as one of those six cities and Gosford is the Principal city for that region of the Central Coast.
"We are talking about the gateway to the Central Coast. We want to make an iconic waterfront city. And you don't have to go very far to look around here to see what makes it that. You've got the hilltops which fortuitously previous councils have protected so they get that great vista and there is no intention of changing anything like that.
"There are already several major government initiatives and non-government projects that are occurring in the region and all of that will bring value to transport, maritime and the tourism industries so Gosford and its future fits absolutely spot into the current Six Cities strategy and quite unusually, for a council, we actually own the seabed out here and not many people are aware of that."
Mr Hart explained that there were only two landowners with a stake in the waterfront, Council and Crown Land and one land claim by the Darkinjung Local Aboriginal Land Council (DLALC).
"So there is the state, the council and Darkinjung with the land claim. They are the only players that need to get together.
"The Central Coast Regional Plan and the Six Cities Strategy identify Gosford as this region's principal city with a key priority to undertake and integrate precinct planning to the waterfront parts and entertainment, to the city core, to the railway and to the hospital precinct and I would add to that the educational precinct."
Continued economic growth and revitalization, jobs growth and the coordinated delivery of improved transport infrastructure will all be byproducts of the latest waterfront proposal, according to Mr Hart.
"Gosford has been the chosen place for the new university which is Newcastle moving in here. We have the TAFE moving down from up the hill down to where the previous council chambers was. We have the Central Coast stadium and that's a fabulous stadium," Mr Hart said.
He said council had already been working behind the scenes on delivering water and sewer infrastructure improvements to the health and education precincts
He said there's also close to $1 billion of mixed-use development including the Leagues Club which he described as having "some fabulous plans which no doubt they will be announcing in the not-too-distant future but having had a wee look at that I can tell you it fits in brilliantly with what we are talking about in this particular project".
The Administrator said it was "bleeding obvious" that Gosford was way behind Wollongong, Newcastle, Western Sydney and the aerotropolis in terms of funds invested by the state government.
"So that is another point about the time being right. The time is right now to ask the state government to enable the Central Coast to be a major player as one of those six cities. The time is right for them to invest here and our view is that this is the project that will transform Gosford."
Executive living
At several points in the media conference Mr Hart referred to new developments, such as Gosford's growing medical precinct, attracting "high order jobs"
"To maintain and keep the staff you require a livable city where people want to live. Where people want to move to. At the moment Gosford is not that. What we plan will change that," he said.
"For the university to be successful it needs to have a large number of overseas students. That's where the cash cow is for a university. It is in its overseas students. Now students are a fickle bunch.
"Students want to go to a place which is fun, entertaining, safe and gives them the opportunity to have part-time work. An entertainment precinct down here will do all of that but there is more to do through the rest of Gosford as well but that will help that.
"There is massive scope for high-end jobs and accommodation through apartments to be here. What you need is a safe environment around it. And you need an entertainment precinct.
"We have the stadium. The stadium is now being managed outside of council and that has already got over 40 events planned for the next 12 months. You are going to see far more potential coming out of here.
"Now one of the things for my sins I was involved with, I was in Melbourne in the mid 90s through to the end about 2000 and during that time you will remember Melbourne was deemed the rust bucket of Australia.
"What we changed down there we went to make Melbourne the most liveable city and of course it has won that title on a number of occasions now. What we intend to do is to make Gosford one of the most liveable small cities in Australia.
Mr Hart said he had recently asked the Mars Food Company (Masterfoods) how they competed with other Mars locations if, for instance, the company was looking for the best location to develop a new product line.
"When Mars as a company want to produce worldwide a new product, where do they look to manufacture it?
"When you are chasing what I call the FDI dollar, the foreign direct investment dollar, there is competition between those areas where there are already Mars factories. Their problem here is that if you are going to put in senior executives, and if you are going to find a competent workforce, you struggle to do that as we learned in Melbourne if you don't have a place that senior executives want to come to and live.
"That's one of the other reasons we have to transform Gosford so it is livable for those sorts of people to help them when the investment decisions are being made that that decision is made we will relocate to the Central Coast," he said.
Tourism drawcard
Mr Hart also said there was a need to develop reasons for visitors to the Coast to stay overnight rather than come for a day trip and he acknowledged that was already being helped along by the region's growing status as an ECO Tourism destination.
"We are already close to being number one for that in Australia so we have massive opportunities to develop our tourism industry but we need a base where people will stay their visitor nights so we have to enhance that particular component of it."
Again referring to his previous experience with similar projects in Victoria Mr Hart said the redevelopment of Melbourne's Docklands was successful because it included a stadium.
"You put the stadium right in the middle of the entertainment precinct. We already have that. Then the docklands authority cashflowed and managed the development from that point onwards.
Consultation
Consultation will be the next step, expected to commence in approximately two weeks. Council has already placed a "watch this space" page on its yourvoiceourcoast website.
"We will be trying to get as many people to comment about what they would like to see there and how it could work.
"At the end of the day this has to be owned by the people. One of the problems I know in the previous attempts was getting the commercial people involved early actually changed the paradigm and the community was pissed off.
"This time around we want this to be a people's place, a public space where people want to go to and they feel very comfortable there. That's the intention. So we will start that process.
"We now have to move to a very intense and long-ranging and far-reaching discussion with our community about what it will actually finally look like," Mr Hart said in terms of seeking community support for the development of the waterfront.
"This, if you like, is a startup attempt, it is designed to get people thinking about what is possible and the reasons why we actually want to do something. What it finally looks like is up to what the community would like to see there.
"We have some suggestions that have been put forward," he said referring to the areas around the stadium, the waterfront and what's called the 'urban domain' and connectivity through to Point Clare via a new cycleway/walkway parallel to the train line across Brisbane Water.
Another focal point would be a marina surrounded by commercial and retail development which could include a small boutique hotel "and of course residential and you need residential in these mixed if you think about the way Hobart has been developed and you think about the way Wellington has been developed around their waterfront it is a mixture of commercial, retail and residential so there needs to be all of that here."
A round building directly west of the existing Coast Bar site was referred to by Mr Hart as "some form of public building". He described the round public building on the artist's render as just an example of the sorts of things you could do along there.
"In talking with Darkinjung [Local Aboriginal Land Council DLALC], Darkinjung are interested in some form of cultural type centre and things like that so there's huge numbers of thoughts and that's what we want the feedback on.
"And Darkinjung will be very clearly involved in talking about some of their options that they think could do this because when you are starting from scratch you have that ability to theme it or do other things.
"Darkinjung being a player I think that to be honest being a big asset for the Central Coast having one land council. So that is another key factor, you have one land council for our area, you have one council, you have one commissioner whose total job is to represent us so we've got all those stars lined up if you like right now so it is up to the community to decide exactly what they want in these places. What we've provided for, as I said, is a space there. It could be a cultural centre. It could be whatever.
"We are not presupposing or prejudging what they will be. What we've done is given people an idea."
He made the point that Council believes it is "adding a large amount of public space.
"I heard some comments on the radio this morning that there's reductions and loss of public space. That couldn't be further than the truth. The plan is to create an awful lot of public space there so that people can go there and as David Farmer often says you don't have to spend a dollar you can just wander around or you can have a meal, hopefully there will be bars, nightclubs and a few other attractors particularly for our younger people."
The Dane Drive Dilemma
The Administrator acknowledged that access to the waterfront was an impediment.
"Some thoughts are that we could have a 40 or 50 metre wide crossing (near the park) so it would need to be a plaza-like thing. We do need to connect Mann St which is the spine that runs up to the education and health precincts," he said.
"We do need a connectivity to the waterfront so that is a critical piece that needs to be thought through but initially we are thinking that maybe just a bridge over, I am talking about a green bridge, grassed and so on."
Money and delivery
Mr Hart described council's concept for the waterfront as "a pretty damned good investment" with its cost-benefit ratio of 1:1.7 which is why he said he was 100 per cent confident that the state government and private developers would come to the party.
"From a delivery point of view, as I said I am very familiar with one or two models, David [Farmer, CEO] is also familiar with Wollongong and Cairns where he has been involved in similar types of development."
Council and its ratepayers will contribute the land but no money or project management.
"It is better if the council does not do it," Hart said. "We do not have the skills set or the ability to be able to manage these types of projects.
"So the intention would be there would be a delivery vehicle similar to a Docklands Authority or Barangaroo Authority or Darling Harbour which had authorities. Generally they are state owned enterprises, so SOE, that report directly to government.
"For the funds to carry out this work I would envisage that our land would go into that entity and the state would put funds in to do the other principal infrastructure.
"What we are asking the state to do eventually is build, if you like, the ground level and then the commercial takes over. So when we are talking about the total of approximately $680 million cost that is roughly split 50-50 in our estimation between the state and the private sector.
"The time is right because there is a state election. We have been speaking with the state politicians. There is excitement there providing that it is a community based final effort and we are hoping the government will see fit given that they have created this [the Six Cities Strategy].
"We are a crucial part of it. We haven't had the investment that the other cities have had and for approximately $300-400 million we can get this which will transform the Central Coast because by getting Gosford right we get the rest of the Central Coast right.
"It has been done in so many cities around the world that I guess my ask is to the state government and to both sides of politics is give us our opportunity now because we're ready to rock and roll but we can't afford it. We are not putting money into it. We can contribute our land and we can look after the public space once it's done."
The Council will initially be asking the NSW Government to provide $8.5 million to complete a comprehensive business case, referred to as "Gateway 2".
"I am very hopeful because the times right and the local politicians have been around long enough and are ugly enough to actually know that we have got a problem here in Gosford. Unless we sort it nothing is going to change so they know that this is probably the last crack.
"As I said there is bipartisan support for the Six Cities strategy so both sides of politics are locked in for the way to go forward there and it is absolutely no secret that all of the investment so far has been to Parramatta, Sydney CBD, the Fish Markets, those sort of areas.
"I think we are well placed and the fact I think council does not get involved in the actual running of it is a big positive for investment in the future down the track because it is always difficult when you've got a council running things because of the unpredictability of the council.
"Of course any commercial entity is trying to de-risk their projects so if it is being managed by say a Docklands type authority there is a lot of confidence in the entity," Mr Hart said.
If the state does spend the $8.5 million, the current concept will be fleshed out into the exact deliverables and what they'll cost.
According to David Farmer, "That's at the point where the government will be making a decision to proceed with the project or if it is not bankable it runs away. We want to get the government involved in that process. The second phase is then establishing the vehicle or putting it into an existing vehicle and then delivering the project."
And how long is it likely to be before the iconic waterfront is a reality. According to Mr Hart, "It is certainly not going to happen overnight. I mean Docklands took a decade. Wellington waterfront which I am also familiar with more than a decade. Hobart I am not entirely sure how long that took.
"Like everything you can't say you are 100 per cent certain that it will be 100 per cent successful," Hart said in response to questions about development timeframe. "What you can say is that you've got the right delivery vehicle and the project is de-risked, the private sector will do it.
"I think it is 100 per cent achievable, 100 per cent," Hart said
"When you think of the total ask of the state as I have said it is approximately in the order of between $300 million and $400 million, its not very large to create."