Read Time:
7 Minute, 4 Second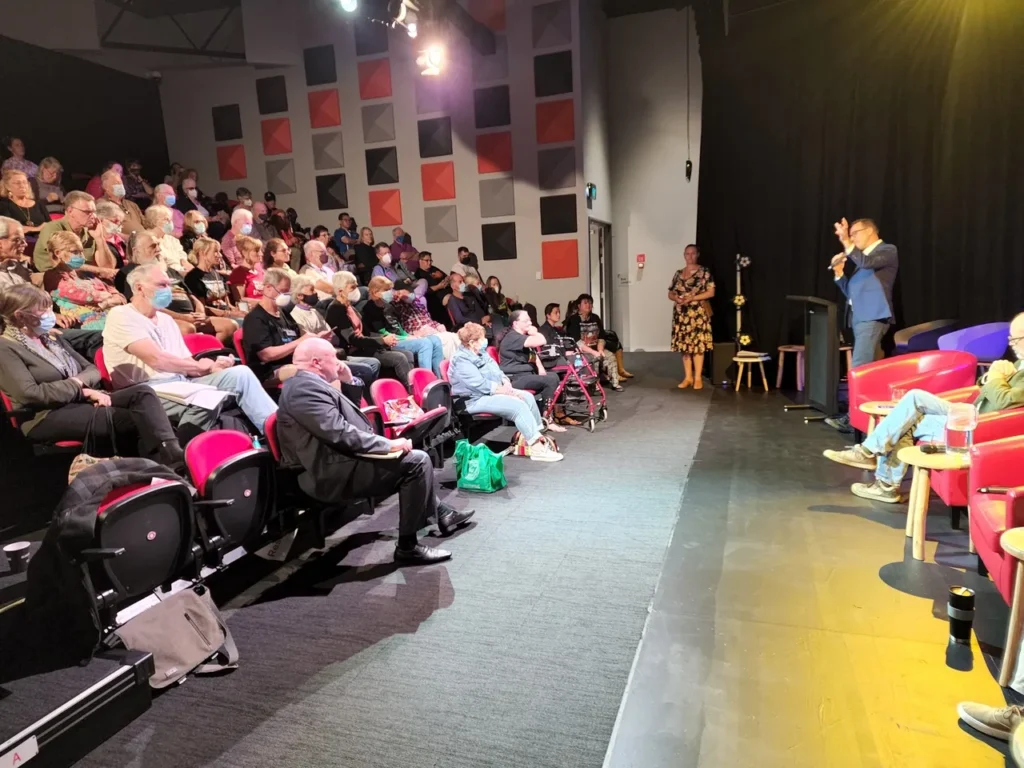 What happens when a community decides to get politically active and run a campaign forum focused on core issues rather than candidates? Well, for starters, the major parties don't turn up.
An election campaign forum with a twist, held at Tuggerah's Red Tree Theatre in regional NSW on Sunday, May 1, filled the theatre with community members and attracted high-profile speakers, candidates from smaller parties, but neither Liberal nor Labor candidates were represented.
The event was called 'Integrity and Our Future, what to know before we vote', and was hosted by community organisations including Central Coast for Social Justice, CC Friends of Democracy, Climate Future and Future Sooner – all groups actively campaigning for environmental justice, social justice and good governance in their community. It was an opportunity to turn the conventional candidate's forum on its head by putting issues of high community concern and interest first and then allowing candidates to respond.
The location chosen made it possible to canvass issues and candidates from three federal electorates – Shortland in the north, Dobell and Robertson to the south.
Integrity
The first speaker was Alan Sunderland, former ABC editorial director (2013-2019) who spoke on integrity and accountability.
Sunderland spoke of the fact that Australia was ranked seventh in 2012 in terms of its levels of governmental corruption measured by a globally-recognised independent organisation but, by 2022 we had slipped to 18th.
"We have dropped 11 places in the international rankings by a respected non-profit group who looks at these things by a range of criteria," he said.
He spoke about the Australian National Audit Office (ANA) findings of political 'rorts'.
"Never before have I lived in an environment where damning complaints about politically corrupt ways of spending our money come to light and the response is to say … we accept those recommendations but we've done nothing wrong and we won't do anything about except for one thing, funding to the National Audit office has been cut by about 10 per cent despite claims for it to be increased," Sunderland said.
"When ICAC comes out in NSW and has its findings against the then Premier, it is labelled a Kangaroo Court, 'who do these people think they are, the government was voted for and now its been kicked out by a bunch of faceless bureaucrats'.
"The government, as we know, has gone to great lengths not to endorse, embrace or create any kind of meaningful commission against corruption," he said.
He spoke about the role of organisations like the ANA, ABC and Commonwealth Ombudsman: "The government thinks we all work from them, that we are an agency of government. We are agencies of the people. The government is the mechanism whereby we are funded but we are not there to be an agency of government.
"Every time I hear those little linguistic ticks, I realise that governments traditionally, and it doesn't matter whether they are Coalition or Labor, or one day a Green government, who knows, governments find it very difficult to fund things they can't control."
Climate crisis
Richard Weller from Climate Future said: "It is innately unfair and false to tout 'business as usual', giving false hope to communities like the Hunter coal miners. It is just not right. A fair, safer and more equitable approach is to have a well thought out transition plan.
"We've got enormous opportunities available in renewable energy and we just need to take advantage of it. Any kind of cost-benefit analysis for the region or for Australia as a whole shows that the opportunities of moving early to renewable energy far outweigh the cost."
Coal
Gary Blaschke from Future Sooner has been a long-term campaigner attempting to address the health impacts of coal-fired power stations and coal ash dams.
He pointed out that the federal electorate of Dobell covered a larger area than "the Dominican Republic, Tonga or Bahrain so we are talking about a massive area for these people who want to represent us to be able to understand".
According to Blaschke, there are no environmental boundaries between Shortland, Dobell and Robertson with the impacts of coal mining and electricity generation impacting the whole population.
"Coal communities like where I live in Lake Munmorah in the division of Shortland have endured decades of environmental destruction and human health impacts because of their proximity to the now decommissioned Lake Munmorah coal-powered fire station, the operational Delta-owned Vales Point and Origin's own Eraring power stations."
"Not only do we endure increases in particular pollution with Vales Point recently being named …recording 123 per cent increase in PM10 particles and over 200 per cent increase in PM5 particles in the year 2020-21 despite generating less electricity over the same period."
He said evidence of chronic health consequences had been swept under the carpet by politicians.
Refugees
Lana Tu from the Refugee Action Coalition gave a compelling speech about the plight of those in detention because they had arrived in Australia by boat to seek asylum.
"Refugees may be elders, resistance fighters, democracy activists, journalists," she said.
"People flee because of push factors like persecution or war…"
She said Kevin Rudd, when he became Prime Minister again in 2013, stated that no asylum seeker arriving by boat would be granted asylum, thus contravening their rights to resettlement in Australia under the UN Refugee Convention.
She said 13,700 people were still incarcerated or living precariously as a result of consecutive "stop the boats" campaigns, that giving them permanent visas would resolve the issue and noted that both Anthony Albanese and Scott Morrison would continue the crisis.
Greens Senate bid
David Shoebridge, who resigned from the NSW Parliament to run for the Commonwealth Senate (NSW) in the May 21 election, spoke at the Tuggerah event and started by saying social and environmental justice "really does start with First Nations justice".
"There is a reason I put my hand up to run for the Greens in this election…part of what we are doing here today is not being bystanders in democracy but coming in and insisting that this is a collective job to come and fix the broken democracy that we have."
He said the "false" competition between Labor and Liberal was proof of the broken state of our democracy and that the continuing use of 19th and 20th century technology based around fossil fuels was damaging our health and our planet.
"Both the Coalition and Labor are coming into this election with that near history, that harsh, brutal near history and …both are committing to more [coal and gas] and using our money…to actually open up new coal and gas operations and make the situation worse."
House of Representatives candidates
The candidates who did attend and speak were Cath Connor (Greens Dobell) and Jeff Lawson (Indigenous Aboriginal Party Robertson).
Lawson said he was standing to represent all the people of Robertson and would focus on reforming Land Councils, reducing Aboriginal deaths in custody and improving health outcomes for indigenous Australians.
"We've got a small period of time to really focus on the issues that at a federal level will make a difference to all of us like climate change because if we don't fix it now, if we have three more years of inaction, it will be too late," Connor told the crowd.
Both candidates said they wanted to work to improve the supply and availability of affordable housing and give more children and adults access to education without it resulting in debt.
Missing
Federal candidates invited to speak at the forum who did not attend were Member for Dobell Emma McBride (Labor), Member for Robertson Lucy Wicks (Liberal), Liberal Candidate for Dobell Michael Feneley and Labor Candidate for Robertson Dr Gordon Reid.
What you can do
1. Get informed before you vote – find out which federal electorate you are in and who the candidates are.
2. Visit the Australian Electoral Commission to make sure you vote correctly in both the House of Representatives and the Senate.
3. Think carefully about the sort of society you want to live in and vote accordingly
The Point will be running videos from the forum across coming days to give you more insight into how the forum operated and the issues discussed. Special thanks to Traditional Custodian Tracey Howie for her Welcome to Country.