Read Time:
9 Minute, 57 Second
As politicians around the world continue to prevaricate about how to get to net zero, some of the world's largest asset and capital managers are making major investments in renewables including green hydrogen.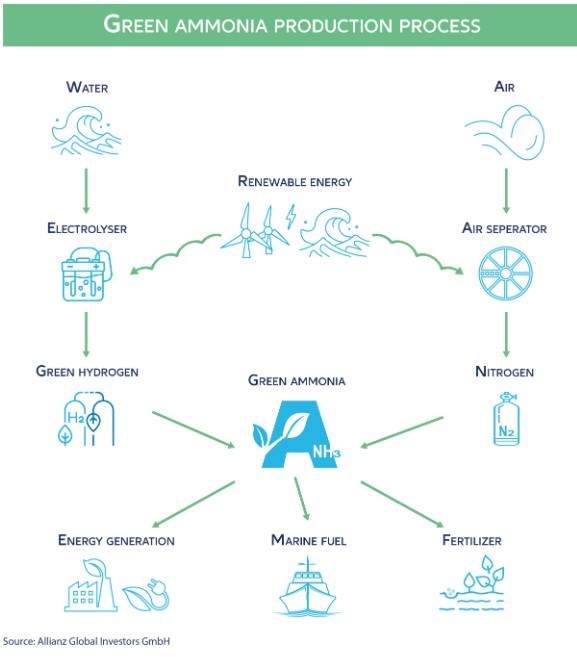 By Jacquelene Pearson
Allianz Capital Partners has recently announced its second major stake in a renewable scheme, this timeacquiring interests in green hydrogen and green ammonia projects in Norway, according to reports in IPE Real Assets.
According to IPE, Allianz Capital Partners, on behalf of Allianz insurance companies, are investing 20 million Euros to help fund a pipeline of projects being put together by Fuella, the Norwegian developer set up in 2020 to produce green hydrogen and green ammonia plants.
This is Allianz's second direct investment into green hydrogen, following its 25 million Euro investment in the Finnish green power-to-gas developer Ren-Gas in December 2022. Allianz will hold a minority stake in Fuella and will be entitled to invest in Fuella's future green ammonia and power-to-X projects, according to the Allianz Capital Partner's media statement on this acquisition.
Fuella is at the forefront of driving the energy transition by spearheading the development of commercial-scale green ammonia production plants, facilitating the shift towards emission-free fuels in Norway, and beyond.
Ammonia stands out as a hydrogen derivate due to its relatively high energy density, favorable combustion properties, convenient storage characteristics, and an established infrastructure and market. Notably, the production of green ammonia relies solely on air, water, and renewable electricity which makes it play a significant role in the transition to environmentally friendly fuels.
Fuella aims to develop a series of green ammonia projects, leveraging a scalable technology platform that allows for replication across future endeavors while achieving cost-effective production.
The company's initial emphasis lies in the identification of ideal production locations characterized by three critical factors: access to affordable renewable electricity, robust grid capacities, and efficient offtake and transport routes. These elements are paramount for establishing green ammonia plants that yield -a high quality commodity at competitive prices.
"Fuella is our second direct investment into green hydrogen and is building upon our most recent investment in Finnish green power-to-gas developer Ren-Gas. The investment in Fuella aligns perfectly with our overall energy transition infrastructure investment strategy and underlines the importance we attribute to green molecules for the energy transition in Europe.", says Michael Pfennig, Co-Head of Infrastructure at Allianz Capital Partners.
"With our second power-to-gas platform investment in the Nordics we underline the great potential we see for the production of green molecules in the region. We are very proud of partnering with the innovative and motivated team of Fuella and look forward to driving the expansion of this promising platform with many more projects in the future.", says Igor Lukin, Senior Portfolio Manager at Allianz Capital Partners.
"Norway is very well positioned for the production of green molecules. We are delighted to have Allianz as our partner in accelerating the development of our green ammonia projects. Their investment and expertise in the energy transition sector will significantly enhance our capabilities and expedite the execution of our project portfolio", comments Cornel Russi, Co-CEO of Fuella.
Green hydrogen should be hydrogen made without the use of fossil fuels. It is seen as a way to decarbonise heavy industry. It is made using green energy (from excess solar power, for example) to electrolyse water. Using an electrochemical reaction, water is split into its two components – oxygen and hydrogen.
And in Australia?
In May the Australian Renewable Energy Agency (ARENA) welcomed new funding for the Hydrogen Headstart initiative announced in the 2023-24 Federal Budget.
The Australian Government announced the establishment of the $2 billion Hydrogen Headstart initiative to underwrite the biggest green hydrogen projects to be built in Australia.
Funding will provide revenue support for investment in renewable hydrogen production through competitive production contracts. Funding will cover the commercial gap between the cost of hydrogen production from renewables and its current market price.
Hydrogen Headstart aims to support two to three flagship projects which could provide up to 1 gigawatt of hydrogen electrolyser capacity.
ARENA has been allocated $4.2 million this year to support the development and operation of the program in consultation with the Department of Climate Change Energy Environment and Water (DCCEEW).
"Hydrogen Headstart will catalyse Australia's hydrogen industry and other clean energy industries, and help position Australia as a global hydrogen leader," ARENA CEO Darren Miller said.
Mr Miller said the Hydrogen Headstart initiative will ensure large scale hydrogen projects already in development can get off the ground in Australia.
"Australia has an unparalleled opportunity to become a global green hydrogen leader, but we can't afford to lose our momentum as other competing countries step up their ambitions and support," he said.
"With this funding, we are looking to incentivise green hydrogen production in Australia by backing early projects that will be among the largest in the world.
"This funding will reduce the cost of green hydrogen produced via renewable electricity and will scale up our hydrogen sector. These projects will create thousands of regional jobs and will help reduce emissions in industry in line with our climate targets," he said.
According to new analysis by McKinsey and modelling by DCCEEW, Australia's hydrogen industry could generate $50 billion in additional GDP, and create more than 13,000 regional jobs and a further 13,000 jobs from construction of new renewable energy infrastructure by 2050.
This program builds on ARENA's existing work in hydrogen and track record of delivering transformative projects in the energy transition in pursuit of net zero.
ARENA has provided $236 million to 43 renewable hydrogen projects from early stage research to deployment projects including hydrogen refuelling and hydrogen trucks, hydrogen for producing green ammonia, hydrogen for use in alumina refining, gas blending and remote power.
Last year, ARENA conditionally approved $47.5 million for the first 10 MW electrolyser plant in the Pilbara being built by ENGIE as part of a $103 million Renewable Hydrogen Deployment Round.
ARENA has also recently announced $25 million for hydrogen research and developing funding, and $50 million for four hydrogen projects supported as part of the joint Australian-German HyGATE initiative.
Having provided more than $2 billion for over 650 renewable energy projects over the last decade, ARENA is now focussed on how Australia can maximise its advantage in renewable energy to become a clean energy superpower in a net zero global economy.
"ARENA is delighted to be involved in the design of this game-changing hydrogen funding initiative."
In July ARENA opened consultation for the Hydrogen Headstart initiative.
ARENA and DCCEEW published a consultation paper outlining indicative specifications for the program. The consultation paper covered proposed objectives, eligibility criteria and funding mechanism, as well as other features of the program.
The consultation paper proposed to support projects with a hydrogen production credit delivered over 10 years, bridging the gap between the cost of hydrogen produced and the sales price of hydrogen or its derivative products.
ARENA and DCCEEW called for written submissions, hosted an information webinar and ran in-person consultation forums in Sydney and Perth.
To date, ARENA has invested more than $255 million in 44 hydrogen projects spanning research and development, feasibility and engineering studies, electrolyser deployments, vehicle refuelling and more.
In June 2023, ARENA announced that the second of Australia's 10 MW electrolyser deployments, Australian Gas Infrastructure Group's Hydrogen Park Murray Valley reached financial close.
CEO Miller said the consultation would reveal the best pathway to a thriving renewable hydrogen industry.
The Hydrogen Headstart consultation paper and information on the consultation process can be found at the Hydrogen Headstart Program Consultation (DCCEEW Website).
Following the consultation period, ARENA and DCCEEW will develop the final program design.
In August ARENA announced $20.9 million for Wollongong-based startup Hysata to demonstrate their next generation hydrogen electrolyser technology at commercial scale.
Hysata will develop and test a 5 MW unit at their new manufacturing facility in Port Kembla. The electrolyser array will then be installed in situ for further testing and validation before it is relocated to Queensland.
Queensland government-owned power company Stanwell Corporation is backing the project with $3 million, as well as providing the site and facilities for the field deployment of the electrolyser.
The demonstration unit will be installed adjacent to the Stanwell Power Station near Rockhampton, Queensland. The site has available land, water and grid connection capacity.
Spun out of ARENA-funded research at the University of Wollongong, Hysata was established to commercialise this pioneering electrolysis technology.
Hysata's proprietary 'capillary fed' electrolyser cell eliminates almost all resistance in the electrolysis process. Existing electrolysers face energy losses from electrical resistance and gaseous bubbles forming on electrodes, reducing the overall efficiency of the system.
Hysata's technology has been proven to produce hydrogen with 95% (41.5 kWh/kg) efficiency, well ahead of incumbent technologies that operate with efficiencies close to 75% (52.5 kWh/kg).
This has the potential to reduce the cost of renewable hydrogen production through reduced electricity inputs. The technology also offers lower balance of plant costs, with reduced electrical resistance resulting reduced cooling requirements.
If delivered at scale, these reduced input costs will help lower the levelised cost of hydrogen, making renewable hydrogen a commercially viable energy resource.
ARENA has previously awarded Hysata $8.98 million under the German-Australian HyGATE program, with an additional contribution from the German Government's Federal Ministry of Education and Research (BMBF) of €5.9 million.
With the help of the HyGATE grant, Hysata is currently working on the development of a 200 kW electrolyser system that will demonstrate the key components of the 5 MW commercial scale demonstration unit.
CEO Darren Miller said the project is a crucial step to enabling purchase orders for the technology.
"Hysata is a great example of Australian innovation leading the way in renewable energy. This electrolyser technology could be a game-changer for renewable hydrogen," Mr. Miller said.
"The demonstration at Stanwell's site will be key to unlocking commercial demand for Hysata's product by proving the technology works at scale.
Hysata CEO Paul Barrett said this was a significant milestone in Hysata's plans to rapidly scale its groundbreaking technology needed to accelerate the world's transition to net zero emissions.
"Hysata is proud to be partnering with ARENA and Stanwell to enter our next phase of commercialisation.
"Green hydrogen is critical for decarbonisation of hard-to-abate sectors, and we are committed to helping our customers deliver the world's lowest cost green hydrogen.
"With exceptional 95% (41.5 kWh/kg) efficiency combined with cost-effective materials and reduced engineering, procurement and construction (EPC) costs, Hysata's electrolyser will transform the economics of green hydrogen production.
"We look forward to creating more local jobs and strengthening Australia's sovereign manufacturing capabilities through this project, which will pave the way for Hysata's scaling to fulfil a multi-billion-dollar pipeline of orders from around the world."
Stanwell CEO Michael O'Rourke said the support for Hysata's Technology commercialisation was another important step in Stanwell's goal to driving the development of Queensland's renewable hydrogen industry.
"We are excited to support Hysata by facilitating the commercialisation of this innovative Australian-made technology through a field pilot," Mr O'Rourke said.
"The development of a renewable hydrogen industry is a key component of our energy transformation. The potential to utilise high efficiency Australian technology in large-scale hydrogen projects would be a real advantage."
Initial development of the system is currently underway, with the field pilot at Stanwell due to commence in 2025.
Here's an excellent guide to hydrogen if you are interested in finding out more: https://smallcaps.com.au/hydrogen-stocks-asx-ultimate-guide/