Read Time:
3 Minute, 37 Second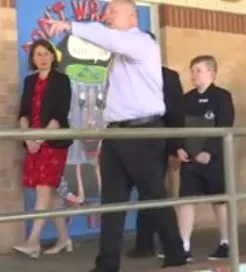 NSW Premier, Ms Gladys Berejiklian, failed to address a couple of important questions when she visited the Central Coast on Friday, February 26.
By Jackie Pearson
Prior to her arrival on the Coast last Friday, to announce a substantial upgrade for Brooke Avenue Public School, Shadow Parliamentary Secretary for the Central Coast, Mr David Harris, said the NSW Premier had two questions to answer.
"The first one is will she support a judicial enquiry and the second is will she properly fund the amalgamation … which has cost in excess of $100 million," Mr Harris said.
Ms Berejiklian gave a politician's non-answer when asked by local media about whether she would support a judicial enquiry into Central Coast Council's finances.
According to audio used by ABC Central Coast Radio Breakfast on Monday, March 1, Ms Berejiklian said: "What we need to do is um, I think the community doesn't necessarily want review on review on review.
"They want to see action, they want to see fairness, they want to see us delivering things on the ground and working with a good local government which represents them and doesn't make them pay too much for things," the Premier said.
"So, ah, I think at the end of the day they would expect us to consider all the issues and listen closely to the community."
If she did listed to the community, or at least the 20,000 signatories to a NSW Parliament e-petition, she'd hear a very clear and convincing call for a far-reaching review, not only into the Council's current financial troubles but into what is clearly a failed amalgamation of the former Gosford and Wyong Councils.
Those 20,000 signatures will make it certain that the matter of a judicial enquiry into the Central Coast Council's finances will be debated in the NSW Parliament within the next few months.
Administrator Dick Persson has made it clear he will be leaving the Central Coast on 29 April. At that point Local Government Minister, Ms Shelly Hancock, will have to decide whether to issue another suspension notice for the remaining 13 Central Councillors or whether to reinstate them, at least until the scheduled local election in September.
Ms Hancock's record shows that she may reinstate the Councillors and let them endure the wrath of the public and ongoing dysfunction caused by a small number of councillors who consider themselves You Tube Stars. Armidale Councillors were reinstated last year after a suspension.
Her other option is to sack the councillors but to do so means she would have to have a public enquiry – with or without a parliamentary debate on the matter.
The Premier, her latest Chief Government Whip, Mr Adam Crouch MP, who is also Parliamentary Secretary for the Central Coast and Member for Terrigal, and the recently-promoted Parliamentary Secretary for the Hunter, Taylor Martin MLC, would prefer not to have a public enquiry.
An enquiry would risk exposing the true costs of amalgamation, significant miss-steps taken by the first administrator and the NSW Government's failure to properly fund its amalgamation experiment.
Yes, the Central Coast community does want a local government that "won't make them pay too much for things". Perhaps Ms Berejiklian should have asked for a briefing note on recent decisions made by her administrator that will see fees and rates rise, services cut and public assets sold.
Perhaps she should have been told in advance that her administrator had negotiated a loan for $150 million with a commercial bank that will lock any future Council into capped capital works that will, no-doubt, lead to an infrastructure backlog that will significantly disadvantage the Central Coast community long after Ms Berejiklian has left politics.
Other questions Ms Berejiklian didn't answer:
1. Why is the Tuggerah Local Flood Plan out of date?
2. Why are there 220 less social housing dwellings on the Coast than there were 10 years ago?
3. When will you honour the environmental offset related to the Kangy Angy Rail Site?
4. Why did you reimburse Council for some of the cost of Coastal Protection Works at Wamberal but not at North Entrance?
5. Why are Narara Public School children denied a bus pass because it is deemed 'safe' to cross the Pacific Highway?