Read Time:
21 Minute, 50 Second
Five authoritative speakers took to the stage at Red Tree Theatre on Monday, 4 May, as part of the Central Coast Sustainability Association's 2023 R.E.E.L Talks.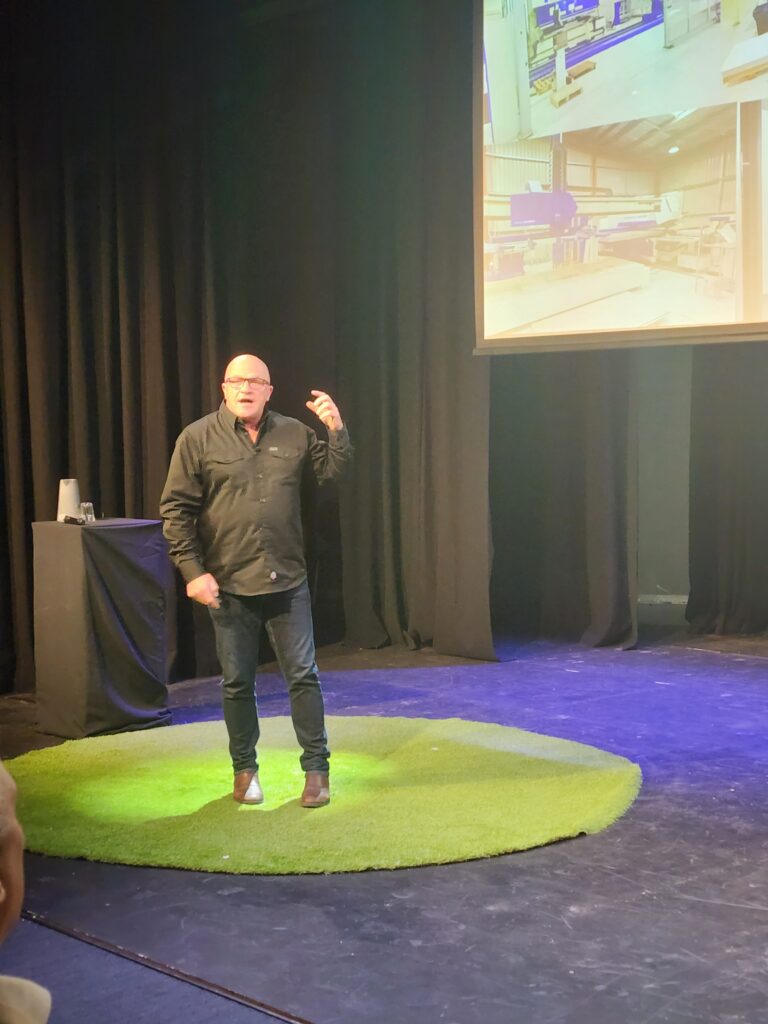 By Jacquelene Pearson
Bruce Cottrill, Chair of the Central Coast Sustainability Association, gets straight to the point at the beginning of the 2023 R.E.E.L Talks by asking a simple question: "How much are businesses missing out by not converting over to renewables?"
For the next few hours, the audience is given an expert tour of the challenges and opportunities facing business, government and community, as we grapple with how to 'energise the future' while turning away from fossil fuels and towards viable alternative power sources.
According to Cottrill, there are $576m in household savings to be had by people on the Central Coast by converting to renewable energy which, he says, "will exceed the COVID payments by quite a large margin".
Here's a summary of what each speaker had to say. If you're a business interested in finding out more or joining the association, you can do so here. If you're a consumer, pass this article on to your business-owning friends so they consider joining this movement.
GREG GATES – THE OLD GAS BARBECUE
Greg Gates describes his company, Sirron Holdings, as an "old fashioned metal stamping business". They make dishwashers and, according to conventional business thinking, should be better off relocating overseas to take advantage of cheap labour.
However, the Caves Beach and Morisset operation has a very different approach to doing business, characterised by "passion, creativity and an underlying respect for all their stakeholders".
"Our philosophy comes from our founder John Watts who had a value that we would take some of the profit we made, and we would give it to charities," says Gates who is now Managing Director of Sirron.
"We want to leave the place a bit better than we found it.
"Over a couple of decades we built a view that we wanted to do more with less."
Gates is clear with the audience that the company is "up against aggressive supply chains" and has needed to adapt to changes in policies that can accompany changes in government.
Sirron operates mainly in the highly-competitive and power-intensive hospitality sector.
How are they thriving in times of high electricity costs?
Gates says the company has solar panels that can generate 98kW on the roof of their facility.
"We have got a view around power that has us with a power bill of about 20 bucks a month and we are a business that makes things. This is not something that we have just done in the last few years. We have done it for decades and it is how we think."
In 2019 the company won an Australian Design Award for a commercial dishwasher that uses 50 percent less energy.
"Hospitality is under pressure to save thousands of tonnes of carbon," Gates explains, adding that he wants to take his energy-saving dishwasher to the global market.
"You think about all the commercial dishwashers in the world and that would make a difference," he says.
The next gem of experience Gates shares with the audience is that it's not just about sticking solar panels on your roof and being done with it. We all, households through to the biggest businesses, have to reconsider how we use power.
"We've been able to manage our power bill down to a point where it is negligible by aligning our work flow with our consumption and our consumption with our generation," he says.
Gates is also proud that his units will rarely end up in landfill. He explains that Sirron has been refurbishing units from flood-affected areas.
When COVID struck, he realised that 90 percent of the company's revenue was related to a sector, hospitality, that was being completely shut down.
Greg Gates becomes emotional during his presentation, recalling the effort it took to stay resilient during the pandemic.
"I got the team in on the Monday morning and said, 'we are going to make sanitisers and disinfectants by the end of the week'. By Wednesday we sourced a non-alcohol-based formula. We believed it would kill the coronavirus and it does. On Friday night, 9 o clock with a beer on my knee I posted on Coastal bag a bargain 5kg packs of hand sanitizer," he said.
Against the odds and within a week Sirron had completely realigned to keep operating during the pandemic and they could not keep up with demand.
"I am really proud of my team and every time I tell the story I get emotional. A few times in your life you work with people and they are all on the same team and it is awesome," he said.
That team made 40 different chemical products in 40 days. Consequently they now have a handcare range that is going out on-masse into childcare and healthcare centres.
"Air fresheners, sunscreens, we have diversified because we had to."
The company also took a hard look at "the carnage of single use plastic that we put in the market.
"It's so far removed from our values but we got caught up in what we were doing," he says.
The packaging innovation came with two new ranges of cleaning tablets that are dissolved for use in re-useable bottles.
According to Greg Gates if you make a car out of single-use plastic then the single-use plastic equivalent of eight such cars gets dumped in landfill every minute.
The company also had its carbon footprint checked and its performance was pretty good except for the old gas-fired barbecue.
"You can't take my barbie," Gates explains.
He concludes his presentation with a curly question about supply. He acknowledges that he doesn't know the size of the nation's electricity grid.
"I've got no idea what size and what generation comes from where. What I see is a real definite pattern of how we use it and we are pretty good at forecasting it."
He is concerned that, of the renewable projects scheduled or semi-scheduled to start generating electricity as the coal-fired power stations are shut down, he knows of 14 projects that have been abandoned, cancelled rejected or on hold.
"We are betting a whole lot of stuff on renewables and that's our plan but how does it fit with time of day. By 2028 we are going to pull out eight coal generating power stations."
For instance, if the whole hospitality sector converted from gas to electricity demand for electricity would increase by +4 GWHs per day.
Gates concludes that there is a supply gap of around 13 GWH per day. He says time of day and changing work patterns will have a substantial impact on the ability to match demand with supply.
Another of his conclusions: "Just use less".
"I am saying there is probably going to be enough power, it is just about how we use it."
JOHN ELLIS, THE POWERHOUSE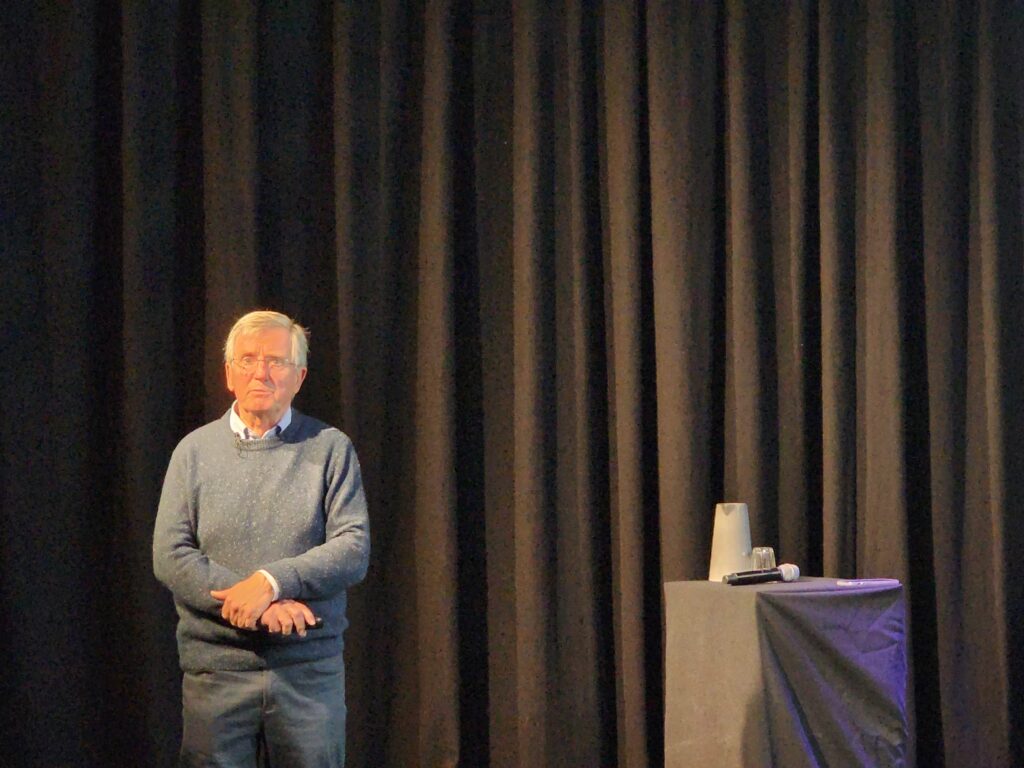 Second speaker, John Ellis, also knows a thing or two about the need to match supply with demand when it comes to switching to renewable energy.
He is the Head of NEV Power, the Narara Eco Village's 'behind the metre' electricity provider.
The Narara Eco Village, if you've not heard of it, is located on a property which had been a NSW Government research station.
The whole community is self-funded. There's no bank finance and the site is to be developed in three stages.
There are currently 55 residents currently in occupation.
"Stage 2 is very close," says Ellis. It will consist of 45 lots ranging in size from 45 to 700 metres.
"Nearly all of those lots have been sold and within the next few years the village will almost double in size."
Ellis says one of the key sustainability issues addressed by the Eco Village has been around building standards.
"Building standards are one of the ways you can manage power. The village encourages people to build different styles of houses but all houses have to meet a min national energy standard of 7 stars," he says.
The government is now moving all new homes up to a minimum of 7 stars so the village is upping the ante to 7.5 stars.
The village has its own power company, which operates behind the metre as an R2 exempt embedded network, according to John Ellis.
"All buildings must have at least 4 kw of solar, most have chosen more than that, and we now have over 450kw of power available," he says.
Last year the Narara Eco Village commissioned battery with capacity to store 437 kw, and a backup diesel generator.
John Ellis says the main reason for installing a battery is "energy resilience".
"Efficient energy house design reduces demand and 4-5Kw meets most needs of the village, so the rest remains stored in battery and is time shifted from day to night.
"The connection to grid really just provides resilience to the weather."
Demand management includes encouraging village residents to buy energy efficient appliances; load shifting such as running the dishwasher at noon or preheating or cooling a house in the afternoon rather than the evening.
"Then we have storage of excess power during the day to use in the evenings and water heater pumps are on a daytime timer."
A recent challenge has been more residents buying electric vehicles (EVs) so now there's a rule that EVs must be charged only in the daytime.
The communal battery, which delivers 400KWH, cost $600,000 plus another $2000 per year for maintenance and is being depreciated at $60,000 per year based on the 10 year life of the cells.
Ellis shares colourful graphs which show that, on sunny days, the battery doesn't drop below 75 percent charge level.
"It is very rare for us to be in a position where we've got any problem at all with available power," he says.
"The grid is still useful for us. There are times when we need to use it but as much as possible we aim to use power from the battery.
"In a rainy week – there are times even with a battery when you are going to be reliant on grid power.
"There were only 90 days during the year when we had to make any use of the grid at all."
NEV Power is run entirely by volunteers and the village is fortunate to have a member who is a highly-qualified electrical engineer who provides a lot of the technical support.
The village also has a technical support contract with ZEN Industrial which is a company owned by one of its members.
They are currently developing smartgrid technology – and will be able to offer users two tariffs.
"We are already in a position where we monitor the power and if we see someone using power of a night time we are in a position to ask the household 'what is it you are using'.
"We no longer receive a feed in tariff for exporting to grid – because the market in the wholesale area has moved so adversely against daytime solar power.
"During the daytime, power will go negative so if you are producing power you now have to pay for the privilege of putting it into the grid.
"There is no real reason why you can't have an embedded network that operates for a business park," Ellis suggests. "A lot of energy retailers are now finding themselves challenged if they find a customer who wants to push PV power back into the system."
For single households, Ellis says the payback for installing solar panels, which he recommends you start with, can take less than four years and sometimes a lot less.
There are also grants available in the community battery space: visit www.arena.gov.au/funding
CAIN KING – MAKING RENEWABLE ATTRACTIVE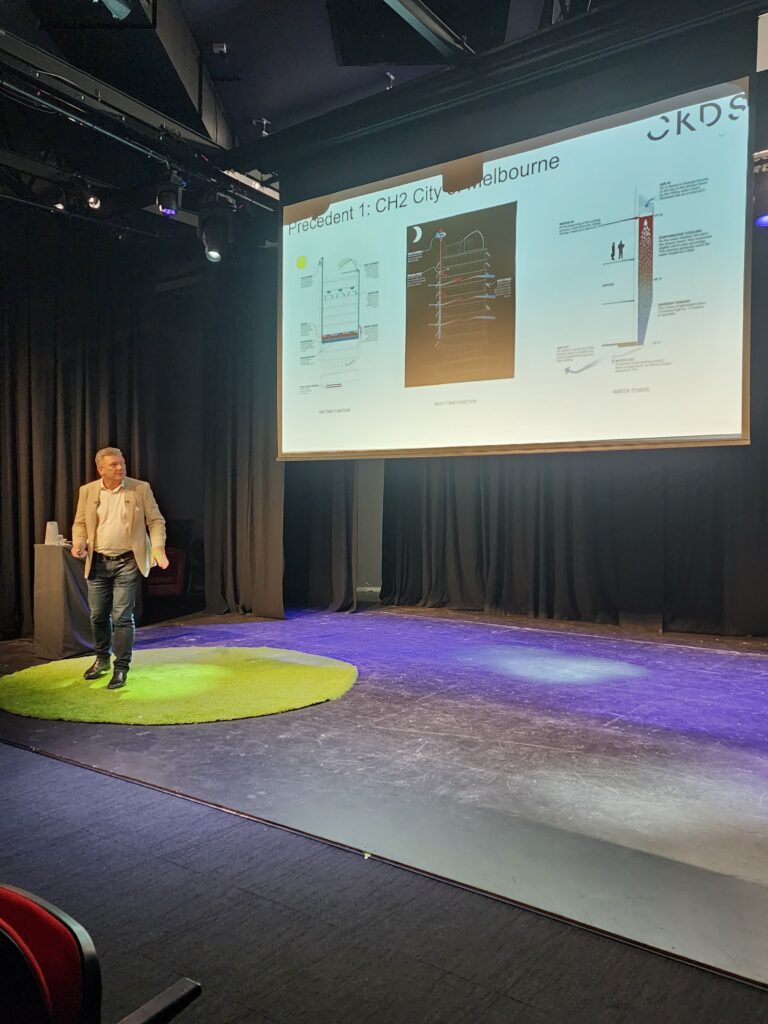 Specifier and Architect, Cain King, owns his own practice on the Central Coast, CKDS Architecture.
He acknowledges that the construction sector is currently "swimming in green wash, incredibly conservative and risk-averse, and in desperate need of financiers".
However, King says he keeps sustainability at the core of the culture of his practice.
"Sustainability isn't an add on, it's what we do," he says.
"Sustainability is a necessity, and it comes around as accountability," he says and that includes in large commercial developments.
"A lot of developers we deal with do understand the sustainability concept but to pay for it is the difference so we have to take them through a journey," he says.
The first step is to introduce them to the AIA guidelines and objectives – protection of land and ecological systems, siting and urban design, selection of materials, energy efficiency and social issues.
King gives examples of major commercial developments he played a part in before starting his own practice on the Central Coast in 2008.
One example was the City of Melbourne's Council building – which he says showed the depth and courage of a building when it was built to include innovations such as, façade systems and wind turbines which resulted in the building being filled with 100 percent fresh air every two hours.
King says he loves the challenge of designing and developing aquatic centres as they are "one of the most energy hungry buildings you could imagine.
He worked on the Brimbank Aquatic and Wellness Centre, just started the Hunter Regional Sport Centre and will build the Tuggerah Regional Sports Centre.
"It's about planning. Planning is the key," he says. If you have a $60 million budget for a building then you are going to go looking for innovative ideas, King explains.
One example would be the installation, at an aquatic centre, of a 88Kilolitre heated water battery that "could release stable tempered water all through the facility at different temperatures for different needs".
That could be coupled with a 500kw solar system (six green star rated). A planned combination of solar, batteries and heat pumps means the building can work with the climate, Cain King explains.
Another case study is a building called Rhodes Central which uses heliostat technology.
"Mirroring is a good opportunity that we do not utilize enough to bring light into our building so we do not have to turn the light on," he says.
King says Breakers Country Club in Wamberal was spending $50,000 on power every year.
"They created a whole lot of solar cells, covered their car park with solar cells," he says.
The project also meant the club was able to "green up the space".
It was set up around a 10-year payback period.
"They have made it a five-year payback but the exponential growth in power bills is creating a shorter payback period."
King also uses the examples of his own office and home. The office building deploys solar cells across roof and skylights. He has plans for a battery out the back and says his next car will be an EV. The office building is also landscaped and he has plans for a water reticulation syste.
Future battery out the back and next car will be an EV. Landscaping. We are going to do water and water reticulation.
As for King's home, he uses hydronic heating with an electric boiler and it only cost $3000 to pipe the slab for underfloor heating.
"I love the fact I am only using three percent and 97 percent is going to grid but the key is changing habits and managing the power. It just means recognise your draws, your dryer, hot water service, your oven. If you can, use it during the day.
Same philosophy I am moving that through commercially.
King is also working with the owners of the Avoca Beach Picture Theatre to install geothermal heating in their redevelopment of the site.
This involves coring down to between 60- and 100 metres beneath the surface to find stable temperatures. A solar-powered fan will be used to transfer water through pipes to ensure a stable temperature of 20 degrees throughout the apartment building.
"We are getting free energy, use of something that is renewable and consistent through the process," he says.
In conclusion Cain King says it's important to: "Design for passive solar, consider insulation, pay attention to appliances, use natural water, install solar panels, consider the size, choose material wisely, install automatic lights, check the windows, use low flow water fixtures, install strong seals, use natural light, adopt the building information modelling method. Get some data and understand how you are using your home."
MATT POLO IS SWITCHING GEARS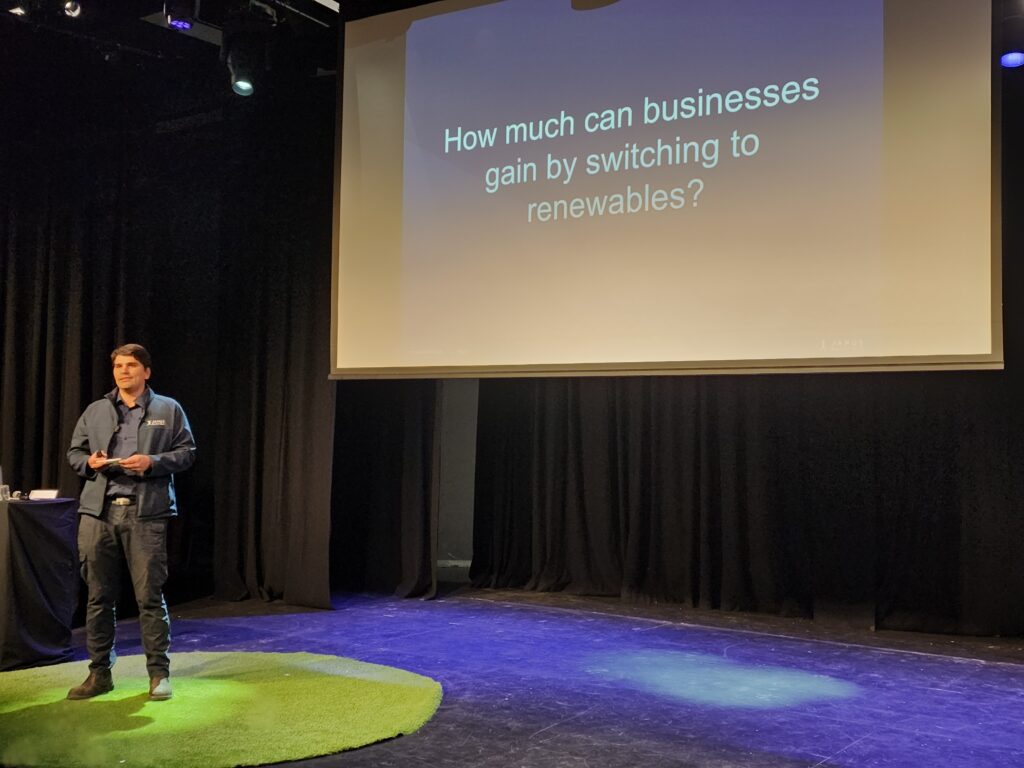 Matt Polo from Janus Electric declares that the company is "building a new industry in renewables" in the hope that the Central Coast could be the future centre for automative manufacturing in Australia. It's a big call until he shares what Janus is already achieving.
"I design and program design systems and gearboxes for the heaviest road vehicles in the world," Matt says, adding, "I think the biggest thing we can gain from renewables is human – hope."
The company's founders, Bevan and Lex, met in Amsterdam. They decided to think big.
"They thought, 'let's convert trucks to electric, no one else is doing it', specifically Class A trucks."
According to Polo, they "rip out the diesel motor, fuel tanks, exhaust and replace them with an electric drive train, gearbox and two big batteries".
Using a swappable battery system negates some of the common criticisms of the limited range of EVs.
"The truck rolls in with its empty batteries and five minutes later it rolls out again with a fully charged replacement battery," he says.
He shows pictures of huge electric trucks that are currently in operation using this swappable battery system: the Western Star, currently in operation, is rated to 90 tonnes; the Road train is rated to 170 tonnes. Who says electric heavy vehicles are not realistic?
The Janus Electric vision is to utilise the current electrical structure to create a 100 percent carbon zero solution for heavy transport.
It believes this process presents its business with many opportunities – lower cost, good for the environment, new markets, job creation, employee passion, drive and satisfaction.
"All trucks will eventually require a repower and that is the point that Janus comes in and offers our solution. For $70,000 to $90,000 more than a traditional diesel vehicle that would cost $330,000, Matt Polo says the payback is attainable within the first year on fuel costs alone.
Then there are the maintenance savings, because an electric motor has one moving part and costs of brake maintenance are also reduced.
It costs $1.15 per kilimetre to run a diesel truck and 40 cents per kilometre to run a Janus vehicle. It's a no-brainer.
Imagine this: there are 39 million trucks in the world, so it would take 20 years to replace the current fleet with electric trucks.
"That is a massive opportunity for us," says Polo. "California has just announced it is going to ban new diesel trucks. There are opportunities for everyone to improve and for new markets to be available to them.
"At Janus a lot of our staff have approached us to be part of what we are doing. Passion isn't something you can buy, it has to be ignited. I am passionate about energy independence whereas some people in the company are here purely for the environment.
Matt Polo says electrifying heavy vehicles can end volatile diesel costs, improve urban efficiency and air quality, and provide better conditions for truck drivers.
"It is probably not well know that there is only about 20 days of diesel in the country," Polo adds as another argument in favour of converting diesel heavy vehicles to electric.
"There is a lot of uncertainty and fear and anxiety in the world these days. We know that we are acting to make a better future and if we lean into hope we can do that through our actions," he concludes.
ANDREW KRUMN – BREAKING THE CARBON CHAIN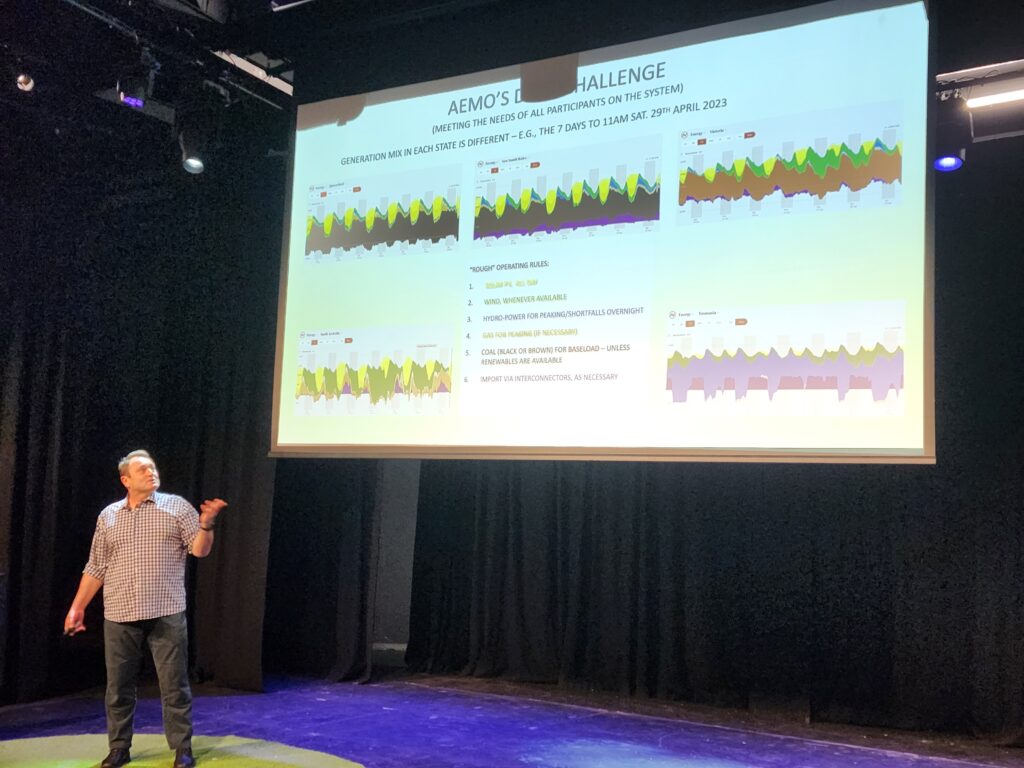 Andrew Krumn, consultant and supply guru, tells me after his presentation that he cannot guarantee there will be enough alternative energy generated to replace base load but he is hopeful.
His presentation is about the reality of what it is to break the carbon chain.
"There is a pretty significant project pipeline out there," Krumn begins. He uses multi-coloured graphics to explain how current demand for electricity is met by the supply of black coal, brown coal, gas, hydro, wind, solar.
"Utility solar is growing quite phenomenally," he says, qualifying that the market is changing rapidly.
"The national energy market consists of essentially a network of transmission lines connecting substations up and down the east coast," he says.
WA runs its own network and the Northern Territory has concentrated generation when they need it.
So the oft-referred to National Energy Market, according to Krumn, includes Qld, NSW, Vic, Tas and SA.
Across the NEM, poles and wires are state controlled, generators are both privately and state owned and it is mostly private developers who will develop the new sustainable projects, Krumn explains.
We learn that the Australian Energy Market Operator (AEMO) is the system operator that "sets out the chapter and verse of everything about our electricity market."
Real time snapshots in Krumn's presentation show that at, particular points in time, up to 60 percent of power supplied to the national energy market has come from renewables – it's already happening.
Solar PV is a significant and important part of the supply side of the market, says Krumn.
But, there's a but, he explains.
"The people who make money are the people who generate after 5pm and they take the evening peak and through the night as the loads drop," he says.
"You have to be able to supply demand at any instant in time, when demand spikes, because if demand exceeds supply you have a brown out or blackout."
According to Krumn, the general rules that will need to be followed to make sure supply keeps up with demand are: "solar PV first, wind when available, hydro, gas, black coal for base load and import as you can".
He sets out the "energy transition risks".
"AEMO only counts hatched chickens, they do not include any projects in their reliability forecasts unless they have hit certain reliability forecasts so there is a guranteed commissioning deadline if you like."
Krumn is confident that the market is "doing a pretty good job" of reaching the target of being about "to integrate 100 per cent renewables by 2025".
"What they do look at is what capacity we are going to need going forward. There does appear to be a gap but there are some things that can be done," he acknowledges.
According to Krumn, "interconnectors between states are critical", for example, a planned 800km transmission line allowing power transfers between SA and NSW.
Then there are "virtual power plants" which he says are "essentially designed to replace all this coal we are going to be losing".
The aim, he confirms, is for all coal generation to be withdrawn from the national energy market by 2043.
"The critical thing really is storage. The scale of storage is going up extraordinarily."
However, he explains that each state is going to be responsible for its own destiny.
At this particular point in time five zones are being developed across NSW.
"In the Central West-Orana there is a 3GW virtual power plant but there is a heck of a lot more stuff that can be attached," he says.
He runs through each of the zones and gives an estimate of the gigawatts expected to be generated by a pipeline of projects. let energy co announce what its actual capacity is going to be.
When we get to the Hunter Central Coast Renewable Energy Zone (REZ), Krumn tells us the capacity to be generated is "to be confirmed".
"They haven't announced what size of virtual power plant but there has been 40GW worth of interest from the market," he says.
Krumn points to a lot of independent power projects including the Waratah Super Battery. He hints that the NSW Government Planning Portal is a great way to find out which projects are coming on stream and what stage they are at by entering a few relevant keywords (he doesn't share the keywords).
"The timeline and pipeline are developing really quickly; they are exploding now. The question is will it happen in time which is the critical thing.
"Is there a gap in the market? In all probability, not. However, Australia wide we do need to start replacing our coal fired power because they are starting to be scheduled out. Australia is reliant on black and brown coal and gas for baseload."
Enter pumped hydro as the most likely replacement for baseload generation – Snowy 2.0 is the clear example but it has just been delayed until 2029.
Krumn explains: "When excess electricity is cheap during the day water is pumped from a lower reservoir to an upper reservoir, the process is simply reversed when electricity is needed at night or in periods of high demand."
He hints that there are multiple "bluefield sites" in NSW that could come online faster than Snowy 2.0. Some are Water NSW sites so there's already one reservoir in place and the land is publicly owned.
Krumn says Snowy 2.0 hasn't been counted in AEMO's projections of future supply. "The consequence is potentially other projects in the pipeline, there are lots of projects in the pipeline, it would be nice to have but it has not been counted into the generation."
Bruce Cottrill sums up the evening with a statement of optimism: "the electricity system is not going to fall over within the next 10 years".
Watch this space.