Read Time:
2 Minute, 2 Second
Tea for Trees takes place on the roadside near the Palmdale roundabout at Kangy Angy every Tuesday at around 11am as a way for the community to gather and peacefully pay homage to the nearby Ourimbah Forest.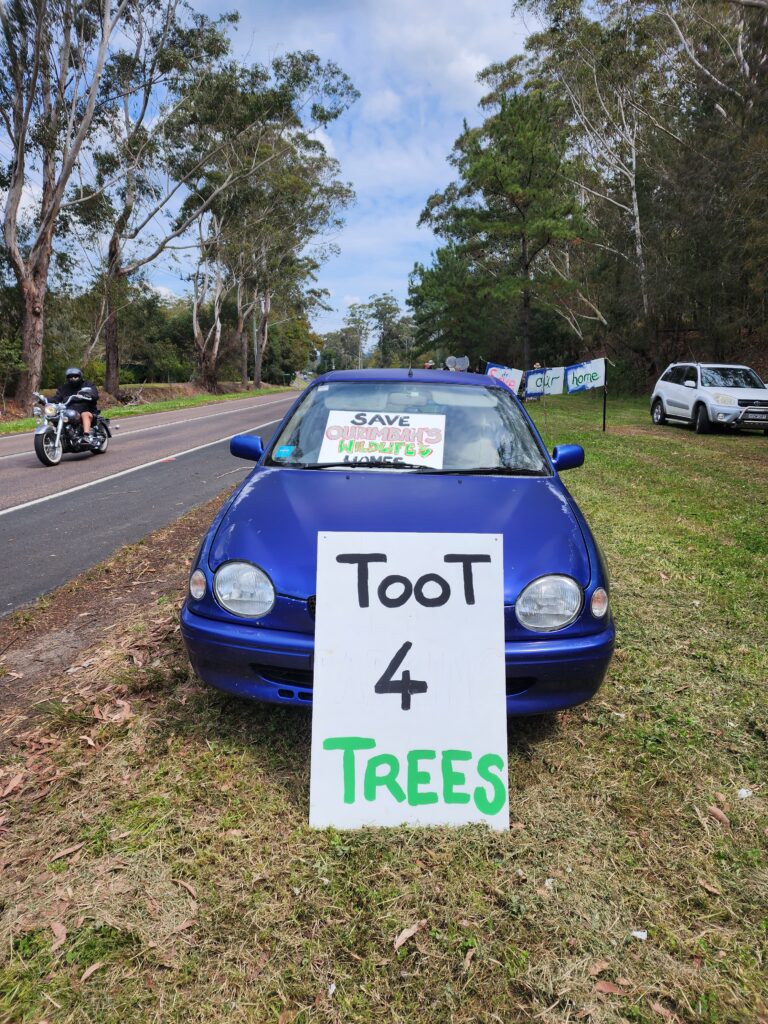 By Jacquelene Pearson
There's a giant cardboard koala, lots of hand painted signs and a table decked out with cloth, teapot, China cups and sweet treats. Community members show up every week as a symbol of their ongoing support for the campaign to stop the logging of Ourimbah State Forest.
The Forestry Corp has paused logging but it is expected to resume before the end of the calendar year and the good folk who attend Tea for Trees are determined to keep gathering until logging is permanently stopped.
It's a happy and quiet gathering but many vehicles honk as they go by – a subtle indication that support for protecting the forest is more widespread than you might think.
Tea for Trees organisers have invited members of the community to write stories about their favourite tree or their personal connection to trees. The Point is pleased to publish those stories, starting this week. If you would like to contribute a story about your favourite tree please email [email protected].
One of the Founders of Camp Ourimbah, the group that has been campaigning against the logging of Ourimbah State Forest for years, Ursula Da Silva, spoke at a Community Voices Australia event at Kincumber Community Centre on Saturday, September 16, about the current state of play.
"I spent my youth walking through the creeks and gullies that make up this beautiful valley," she said, describing it as one of the most southern areas of sub-tropical fauna on the east coast of Australia.
She said 300 acres of forest had been logged in recent weeks but many more are slated for logging.
Around 60% of the material from the felled trees is left on the forest floor, which she described as a "fire starter" at the beginning of what is considered to be a dangerous summer for bushfires.
"There are piles of logs as high as this building. One spark of electric storm and 'boom'."
Minister for the Central Coast, David Harris, has agreed to meet with representatives of the campaign on December 1.
Community members wishing to find out more are encouraged to attend Tea for Trees, Tuesday, 11am near the Palmdale roundabout, Kangy Angy.