Read Time:
9 Minute, 3 Second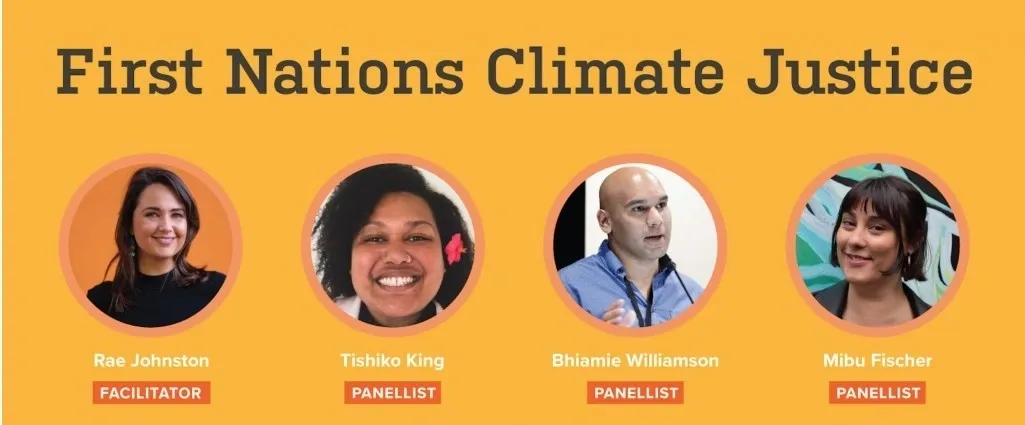 Aboriginal and Torres Strait Islander people will be among the hardest hit by the impacts of climate change despite contributing the least to climate change.
The First Nations Climate Justice Panel is an all-Indigenous panel supported by Emergency Leaders for Climate Action (ELCA). They have published a summary of the panel meeting and provided links to the full record of the meeting. Here's a summary of their summary.
The First Nations Climate Justice Panel gave delegates an opportunity to speak about the impacts of disaster on indigenous people, communities and nations.
Indigenous peoples have been marginalised in these conversations in the past, and it's time to centre their perspectives and experiences and put them at the heart of efforts to mitigate and safeguard against the impacts of climate change.
First Nation's delegate Mibu said: "Climate justice is linked to self-determination and the ability for communities and Indigenous people to make decisions for themselves, and to have resources available to make those decisions. Because it is so unfair at the moment."
Tishiko: "It comes back to white Australia acknowledging the dark history and colonial impacts of this nation. The systems that caused genocide on this Country are the same systems that continue to oppress us today. We need to acknowledge that communities have a right to have a final say about what happens on their Country… "
Aboriginal and Torres Strait Islander peoples' experience of climate change is typically of a far more profound and traumatic nature than those of non-Indigenous peoples, owing to the very deep connections between a community and Country.
Drawing on their particular expertise and experience, the panelists offered insights into how climate change is affecting coastal and island communities, including in the Torres Strait, as well as Aboriginal and Torres Strait Islander peoples' experience of the 2019-20 fires.
COASTAL AND ISLAND COMMUNITIES
Changes to our oceans, fuelled by climate change and burning of coal, oil and gas, are affecting the survival and distribution of species upon which many Aboriginal and Torres Strait Islander peoples have depended for their food security and their livelihoods.
For many communities in Zenadth Kes (the Torres Strait Islands), climate change poses a truly existential challenge, as rising seas swallow land, homes, and sacred sites. Delegate Tishiko explained the situation facing her home island of Masig: " As global warming is increasing, we are seeing our oceans rise. And as our oceans are rising, these low lying islands like Masig are seeing king tides erode metres of our island homes. As I went up north at the end of 2020, over the summer, I went to visit my big brother Yessie Mosby – one of the claimants of the #TorresStrait8.
"I had to pick up the bones of my elders because erosion is damaging our burial sites. As First Nations people we know that these are our spirits of our old people, and it's a sign of disrespect. It's desecrating who they are. It's that heart-wrenching pain in your chest. We are seeing our ecosystems shift as our oceans are warming. …This is the future of our food security that's at risk. It's impacting the way we hunt and practice our culture and traditional ways. My people are finding it harder to identify those seasonal cues.
"My people and our island communities are at risk of becoming refugees in our own Country."
THE 2019-20 BUSHFIRES
Areas impacted by the fires had disproportionately high populations of First Nations communities. As Bhiamie explains: " At the time it was unfolding, we knew it was hitting in areas that had really high populations of Aboriginal people, right along the eastern seaboard in particular. …We mapped the demographic distribution of communities affected by those fires. What we found was that in NSW, Victoria, the ACT and Jervis Bay Territory: Aboriginal and Torres Strait Islander people make up 2.4% of the population, in areas directly impacted by fires they made up 4.8%.
Another part of what was unfolding that wasn't being captured was the incredible impact that those kind of events have on people who are from that place, people who care for that Country, including certain parts of that Country like landscapes, plants, animals, seasons, waterways…
What happens when totemic plant and animal species are wiped out of the landscape and don't return? What does that mean for the cultural continuity of the community?
One of the key bits of evidence that people can use to demonstrate their ongoing connection is cultural heritage sites, and so what are the long-term impacts with things like Native Title cases and people's legal recognition if those sites are wiped out by fire or climate change?
Bhiamie stressed the importance of listening to the communities who were directly affected, of seeking out the stories of traditional owners, and of hearing the stories of how First Nations communities supported themselves when no one else would support them.
To the question of whether the communities have recovered: " No. There is just a deep and unending sadness that lingers in those places, and may do for the rest of our lives. While people have come to terms with the destruction that was caused, they haven't come to terms with the extent of their trauma and their grief, and people really need help with that."
Looking after the land and helping the land to recover is such an important part of the healing process. Community recovery and recovery of the natural environment are the same thing.
Direct impacts of the fossil fuel industry upon First Nations communities
In addition to being heavily impacted by climate change, First Nations communities also face direct threats to Country from the mining of coal, oil and gas.
Many First Nations communities face a particularly severe threat from the burgeoning gas industry as well as many longstanding threats from coal mining.
Fifty one percent of the Northern Territory is covered in exploration licences for oil and gas. If it all went ahead, much of the Aboriginal owned land would have Country polluted by the shale gas industry.
Dangerous fracking processes could see the entire water table poisoned for those communities in the Northern Territory.
Including traditional knowledge and practices in the response to climate change
Aboriginal and Torres Strait Islander peoples have lived sustainably on this continent for thousands of generations. Through these vast periods of continuous habitation, communities have developed extraordinarily sophisticated knowledge of their local ecology, weather, seasonal cycles, and more.
These traditional knowledge systems and associated practices enabled communities to flourish in harmony with their ecosystems, protecting Country for future generations.
There is growing recognition of the importance of traditional knowledge and practices. Since the 2019-20 fires there has been an explosion of interest in traditional landscape management and cultural burning.
On the other hand, panellists talked of the uphill battle to gain respect and support within Australia's more powerful institutions, as well as problematic attitudes from many non-Indigenous researchers.
Mibu offered the following advice for policymakers on integrating traditional knowledge into the design and implementation of measures for mitigating and adapting to climate change: "People need to start checking themselves, and start trying to sit back and work out why I am uncomfortable with this, why is my view being challenged? Because it's just a different worldview, and it's not wrong."
Around the world, First Nations communities are fighting hard to protect land, rivers and oceans from both the impacts of climate change and the ongoing assault of the fossil fuel industry. In many many instances, here in Australia and globally, it is First Nations who are leading these fights. Very often these struggles have been waged for years before they come to the attention of the wider public.
The panel highlighted two urgent and iconic fights in Australia, the first being the campaign by Seed Indigenous Youth Climate Network, working with traditional custodians and their communities, to protect Country from the harmful impacts of fracking in the Northern Territory.
The panel also highlighted the case being made by the Torres Strait 8 against the Australian Government through the UN Human Rights Committee under the campaign Our Islands, Our Home.
This is the world's first case of its kind. Tishiko explains this landmark initiative: "Our Islands, Our Home is a campaign led by eight incredible Torres Strait claimants to protect their homes and they have brought a human rights complaint against the Australian Federal Government to the Human Rights Committee of the United Nations over the Government's inaction on the climate crisis. The demands of the Australian Government are to fund adaptation programs that will allow Zenadth Kes communities to adapt to climate impacts; commit to going 100% renewable in Australia in the next ten years; supporting our communities to build community-owned renewable energy; and transitioning away from these fossil fuels as rapidly as possible through a transition for workers. We need to push the world to increase global ambition and keep warming less than 1.5°C."
How to be a good ally
Many of those listening to the panel asked questions about how to be a good ally to Aboriginal and Torres Strait Islander peoples in the fight for climate justice. Throughout the discussion, panellists affirmed that being a good ally begins with truly listening to those on the frontlines of the climate crisis.
Further, that while allies can play a valuable role through helping create platforms, it can be equally important to stay quiet once you've helped create a platform and to make space for First Nations voices.
Mibu offered the following advice specifically to researchers: "You need to think about putting funding aside in your projects for engagement, to remunerate people for their knowledge, to remunerate them for their time, to build relationships. It's not free.
Tishiko observed that many non-Indigenous Australians can relate to some degree to the care that First Nations communities have for Country, and that their own connection to place and experiences of the natural world should be a motivator to support Aboriginal and Torres Strait Islander peoples in fighting to protect Country:
"Australians love being outside. They love being in nature. You go on their Tinder or Bumble profiles, they're all like 'nature lover!' So great, you love nature – so do we, and we come from here! So you should be advocating just as much as us, because you get that same feeling that we've had for our whole lives. You get it, that minute that you're out there in the ocean, on your surfboard, hiking, snowboarding down a mountain."
Read in full a summary of the panel discussion, which includes a range of resources to illustrate and elevate First Nations voices in the climate conversation.