Read Time:
13 Minute, 4 Second
Trauma is common, complex and highly individual and so too is the way trauma survivors can be triggered by sights, smells, spaces, or recent and ongoing news headlines about a certain deceased Catholic cardinal. We ask Sharon Walsh, Vice Chair of the Central Coast Domestic Violence Committee, to share her understanding of trauma and triggers.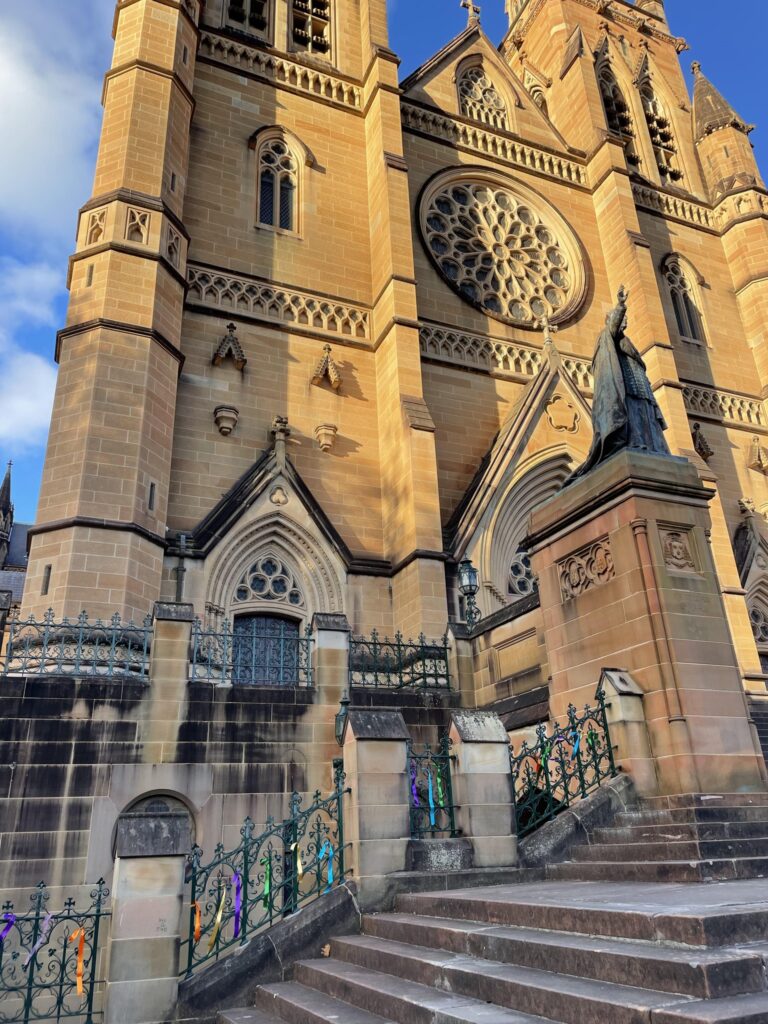 By Jacquelene Pearson
As the Catholic Church continues to remove ribbons of remembrance for child abuse victims from the fences outside St Mary's Cathedral in Sydney, the media continues to report on the death and burial of George Pell, and trauma survivors around the country continue to be triggered by those news stories.
The Point thinks that makes it a good time to have a chat with Sharon Walsh, Vice Chair of the Central Coast Domestic Violence Committee who has worked in child protection and domestic violence for more than 40 years including more than 20 as a lecturer in these areas.
"Survivors are strong, they've had to be to survive. But it goes without saying that they don't always feel strong. Many can recognise when they are being triggered, take some time to care for themselves and work their way through it. For others it is a deep struggle that can take hours, days or even weeks, to recover from," says Walsh.
As former Australian of the Year and abuse survivor Grace Tame describes it in her memoir, The Ninth Life of a Diamond Miner, "…there is now a part of me that will always be misaligned, misshapen, out of place. There'll always be a bump; there'll always be something there that wasn't there before. Not something that defines me but something that will inevitably affect most of the things I do from here on out, for the rest of my life, even if only in ways so small I don't notice."
"In terms of a definition of trauma, it can be described as a deeply distressing or disturbing experience and so we see here that an enormous array of events in life can be traumatic. Living with trauma involves trying to manage the lasting emotional responses that can result from living through deeply traumatic experiences that are done to you, events you had no control over or you were powerless to stop happening," Walsh explains. "When we talk about trauma we are actually talking about something that happens to you.
"Trauma is the event, something that happens to you. How, as human beings, we live with that is complex and I personally think society continues to struggle with how we can, should and will deal with the experience of trauma."
As a practitioner, Walsh was first exposed to complex trauma when working at the Concord repatriation hospital in Sydney in her early 20s.
"At that time Concord Hospital was predominantly a veteran-based repatriation hospital and hence had a majority of male inpatients. I worked in a voluntary psych ward, again predominantly with men and, as a very young fresh-faced 21-year-old, I didn't know what I didn't know. I would hear these shockingly painful, distressing stories from men about war experience and they would also talk about a range of other experiences that had happened in their life, including child sexual abuse, including domestic violence. I always had this sense with those dear men, that it was what they didn't share, that were their darkest experiences.
"I can't say that they were experiencing the trauma of war, which for many men also included sexual assault and certainly physical assault to extreme levels, I can't say that I could decipher that they were any more or less traumatised by childhood experiences versus teenage experiences versus war experiences.
"The women in that ward were mostly elderly and war widowed. That is when I first heard about child sexual abuse and incest. These experiences propelled me into going into child protection work because I decided I wanted to work with little kids."
Walsh says she also realised she needed to move on from the hospital work, because she was being traumatised by the work.
"There was no professional supervision, there was nowhere to take these feelings I had about these dreadfully hurt adults, mostly men but also women. I didn't feel like the system was helping them heal. It was medicalising them. I am not saying they didn't do any good work. They did do great work and there were plenty of psychiatrists and others who were really dedicated to those veterans and certainly far more experienced than I was at that stage of my life.
"But I decided I would start working with kids and families in the child protection/child welfare system, with the idea that I could do more for children, that society even wanted to do more for little children. I was wrong. I was very naive. Another example of not knowing what I didn't know."
Working in child protection included exposure to "shockingly confronting cases" including the extreme abuse and death of very young children.
Walsh points out that trauma doesn't need to be physical or sexual for it to have lasting impacts. It's the lasting emotional impacts that are significant, she says.
"When I was teaching at university, I would routinely refer to a case where one of the most traumatised women I ever came into contact with, was a woman who was actually never physically touched sexually but her whole life from a young child was completely sexualised and it had very similar traumatic impacts as being actually physically sexually touched in terms of sexual abuse," she says.
She recalls quasi-professional conversations in the early 1990s about vicarious trauma or trauma you experience in the field as a practitioner because of exposure to other people's trauma. Sharon Walsh, a 40-year veteran of her profession, says she still gets triggered.
"I had something happen recently in a Teams meeting during cultural awareness training with a wonderful Aboriginal woman.
"What happened in that wonderful cultural awareness training was I got triggered. I completely didn't see it coming and I became very uncomfortable. The trainer did not present any information that I wasn't already very familiar with but it was definitely confronting that I could still be triggered by events from many years ago.
"I put my hand up to leave the meeting briefly and made a cup of tea and took some deep breaths. I came back and the facilitator asked if I was OK. I said, 'not really but I am OK to hang in there. I really want to.'"
Walsh explains that the trigger was a memory related to her time working for the NSW Department of Community Services (DOCS) in the early 1990s.
"I was one of two responders to a notification being directed by a manager in DOCS to remove an Aboriginal child from a family. We hadn't even left the building, the investigation/assessment of the information hadn't even happened and we certainly didn't know if the family were Aboriginal. But that manager, who was an otherwise lovely man, was so convinced that the child would be Aboriginal, based on the address being on the edge of Redfern/Waterloo, he was so sure of this that he was already organising a temporary placement.
"He was saying 'I'll ring Mum Shirl, I'll get it all set up' and I had major words with him. I said, 'I am not agreeing to this. I am not heading out there with a direction to remove this child without any assessment of the information or situation, I'm not doing that. And I am especially not removing this child if we get out there and he is Aboriginal. I am not removing that child. I am not adding to that list of kids who get taken by the white welfare.
"That's what triggered me because that is what we were talking about in the training. What it made me think about was how that was an unknown trauma. It wasn't like I was in denial. I was ashamed that this was the policy. I was ashamed that I was a part of a white-dominated system and organisation that had a shocking history of taking Aboriginal kids.
"I hadn't thought about it that way at the time. I was just an angry 30-something practitioner who wanted to do good work and support children and families. But all these years later I was able to unpack that quite differently. When we talk about trauma and being triggered I think it is so layered and so complex that I think it is great we are finally talking about it," she says.
So what does it feel like to be triggered? Walsh says it doesn't have to be an overwhelming or debilitating sensation. If the trigger is feeling uneasy about getting in an elevator because you have trauma related to cramped spaces, the trigger may lead you to make a spontaneous decision to take the stairs instead. Better for you anyway hey!
"Do you know what it is? It is a reminder," says Walsh. "It's a reminder. It's trauma being a little Jiminy Cricket on your shoulder that's saying to you, 'see you are never going to ever quite get away from all this', but now you can choose how you respond. It is a reminder. It is a reminder that you were powerless at some point and that felt overwhelmingly shocking, but now you have the power to respond differently.
"It's the experience of the trauma and the sense of powerlessness that goes with going through that trauma that lays the basis for the trigger response. Trauma is something that happens to you. Powerlessness is something you feel. It's the chicken or egg. For me the trigger is being reminded of that sense of powerlessness."
Do all trauma survivors get triggered? Walsh says we cannot be sure.
"I don't really know the answer to whether all trauma survivors are triggered. I suspect at certain times over certain things. I think it is highly individualistic while also being a very common experience."
An example of a statement that may have triggered abuse survivors, was former Prime Minister Tony Abbott's description of George Pell as a saint and one of Australia's favourite sons.
"Seriously, doesn't that send the message that if you're a victim survivor, what happened to you needs to yet again be invisible and ignored! Triggering, most definitely.
"It's possible that the majority of the Catholic Church's victims were males and the majority of the reports that went to the Royal Commission were from males, shocking abuses perpetrated against them by men who were supposed to care for them and protect them.
"Abuse of girls in institutional and residential care is also well documented. Routine, shocking abuse and the system would remove girls for so called welfare matters only to institutionalise them where they would be shockingly abused."
Walsh says that Pell's death highlights how little attention has been paid to the trauma suffered by male victims of sexual abuse and the broader implications of that for families, women and children and society.
"I know from practice that men very definitely experience child sexual abuse and it is still rarely talked about. If the institutional abuse Royal Commission's terms of reference looked at long-standing impacts, I think if you went through offenders' histories, I think you would find a very unhealthy dose of child sexual abuse having occurred. Does the abuse of boys feed into abuse of women and children? Absolutely but it doesn't explain it adequately.
"I think that child sexual abuse of boys remains this tabu area. At the very least as a society, we don't seem up for addressing it. I can't even explain what I mean by what level of damage I think that is doing to society more broadly. You can't be sexually abused as a child and ignored forever and be OK about that, whether you are male or female.
"I do find it truly unsettling that a male-dominated society is so unprepared to actually look at the abuse of boys and the trauma that men have also experienced."
Sharon Walsh has boycotted social media and mainstream media since George Pell's death to avoid some of the more florid coverage.
"I was feeling sad that his death would mean various forms of closure for many victims, in a way that they didn't have any say in that matter either. They never got to be heard; they never got to be acknowledged and they possibly never will be. It's wrong, it's unjust and it's inhumane to ignore victim survivors in that way."
"We can say things like Pell got away with it. The Catholic Church has got away with it again and it really covers over the individual experience of people who have been abused, been traumatised and are currently feeling triggered. It just glosses over all of that. It is heartbreaking but it is a reminder of how much society doesn't care about the abuse of children, broadly speaking.
"It is an in-denial issue. It is too hard for many people. It is too painful for many people. It is too triggering for many people. There is a misogyny factor in that most abuse-related trauma in the public sphere is talked about in terms of domestic and family violence, not so much about child abuse, even though domestic and family violence is child abuse.
"We still have a lot of messages that tell us that women and kids don't matter enough. But when we say women and kids don't matter enough, those kids include boys and when we relate it to clergy abuse most of the victims were boys.
If you find yourself triggered by the latest crime against a girl, a boy or a woman or man, what do you do with that?
"You know that is a wonderful question and you are probably going to be surprised by my answer but I've come to a point where I think 'embrace it, embrace it because it's a part of you'.
"The trigger means you are human and humane enough to have those feelings in the first place. That you have something in common with all other victim survivors. I am not saying that is enough to move past it, but it is a reminder of being a decent human being; and having this in common with so many others usually means you have great concern and compassion for how they feel as well. They are some nice traits to have and be proud of."
If you are a trauma survivor needing support, help is at hand. Here are some useful contacts:
Trauma Support Directory – FOR SURVIVORS
For those who experienced trauma or torture before arriving in Australia – Program of Assistance for Survivors of Torture and Trauma | Australian Government Department of Health and Aged Care
Homepage – Australian Trauma Support Centre (atsc.net.au)
Building a trauma-informed world – Blue Knot Foundation
Lifeline 13 11 14
Suicide callback 1300 659 467
Immediate risk of harm to yourself or others please call 000
More information about the not-for-profit Central Coast Domestic Violence Committee Inc