Read Time:
6 Minute, 36 Second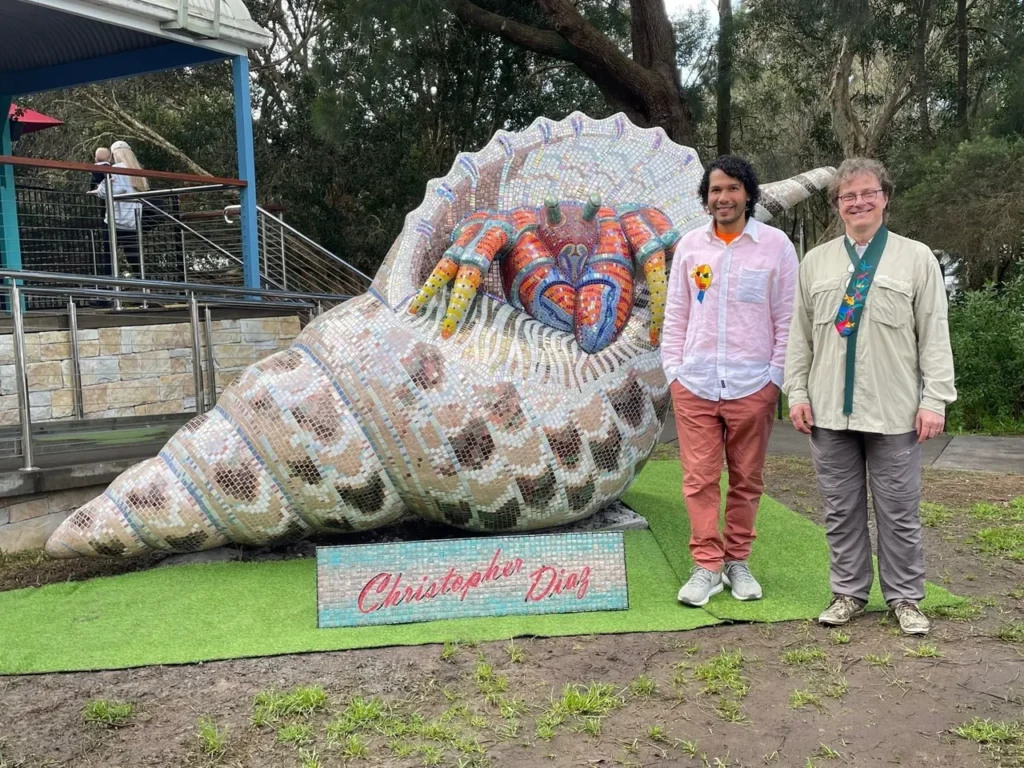 Harry Mulholland speaks with the two award-winning artists whose latest sculpture is now in place at the Central Coast Marine Discovery Centre in Terrigal – they want it to promote their goal of building awareness of the importance of marine conservation in Australia.
The sculpture, which is called Pacifica Australis, is made from fibreglass covered in mosaic tiles. It was crafted by the art duo 'Christopher Diaz', who hail from Europe and South America. The sculpture won first prize at Sculptures by the Sea 2020 in Sydney.
The self-taught duo comprises Polish-born artist Christopher Pekowski and Columbian artist Carlos Diaz. They met in Australia and decided to channel their shared passion for art into new projects together.
Pekowski told The Point that 'Pacifica Australis' was inspired by the ocean and the marine life inhabiting it around Terrigal, and how important it was to conserve the marine life after visiting the Central Coast while they were living in Sydney.
"We were always fascinated, you know, with the marine life and protecting it and the impact of people towards marine life.
"We came to the Central Coast to go diving, and we saw these creatures, and decided to make something, but we didn't know that it was going to be so big and heavy.
"So we decided that we'd return to the Coast and do something for the community to get people to start participating in the protection of the Coast, of the marine life specifically.
"Because under the water, there is another life that's very vulnerable.
"Another point was the eco-tourism here in the Central Coast.
"It's already happened, so we wanted to create something that will turn the attention of many tourists and make a sculpture that could be incorporated into the image of the Central Coast," Pekowski said.
The pair said they started work on the sculpture, which depicts a Giant Triton eating a Crown of Thorns starfish, in 2019 and it took them a few months to complete, crafting the figure out of colourful glass sourced from Italy.
"It took quite a few months, and after the work was completed, we participated in an exhibition in Sydney where the shell won the first prize.
"When it was returned, we started looking for a home for it, and then COVID happened and that stopped us for two years.
"I don't believe in coincidence, but it was something serendipitous after we visited (the Central Coast Marine Discovery Centre) one day two months ago.
"At the Centre I talked to John [Asquith – MDC Chair] and his passion and enthusiasm for marine conservation was blowing my mind, and the decision was made immediately that it was the best place for people, for the community, for the shell to call home.
"The glass we used for the shell, it came from Italy, from a company that has been operating since 1889, and we're lucky to have them here in Sydney for the Asia Pacific region.
"They knew about us, and one day I got a visit from them, and they brought us beautiful, colourful glass.
"It's amazing, it's unreal… this is the best quality glass, it's very beautiful and very colourful and it picks up reflections so well.
"The colours used were a specific choice, we wanted it to be as close as possible to the real thing, so the starfish is very similar to the real thing.
"The funny thing is normally the glass on the starfish is light, but when you put colourful grout like a reddish pink, it turns into pink (tiles).
"The sunlight is playing very beautifully with this (the shell)," Pekowski said.
Pekowski also reassured tourists they can get up close with the shell, saying it is safe to touch and take photos with.
"It's very safe.
"I hope people enjoy touching it because there are no sharp edges, the centre of gravity is in the lower part, so it is absolutely impossible to move.
"It's kind of interactive," Pekowski said.
He also hopes that people connect with the shell and think about the impact they have on marine environments when they see it.
"We use art as a communication skill, as a language, so basically we wanted to connect this shell with what people are going to see in the ocean and maybe one or many people will feel that they should protect it.
"Just being eco-conscious as well, it's something very environmental.
"Also, because this is visual art, children will maybe ask questions as well about the starfish and what the relation to the charonia tritonis (Giant Triton) is.
"The big shell (Giant Triton) in a coral reef, it is eating the Crown of Thorns starfish.
"The Crown of Thorns feeds off the coral, so it's a very big danger to the reef, so this shell is the only one that can be used in a battle to fight this starfish," Pekowski said.
He also spoke of how happy it makes him knowing the shell has found a home on the Central Coast.
"It's hard to explain, and I believe it's mutual happiness, and people are really enjoying this sculpture and it's one of the largest sculptures on the Central Coast.
It's great to see that," Pekowski concluded.
Central Coast Marine Discovery Centre Chairman, John Asquith, thanked the pair at the shells opening recently.
"I want to thank them for making such a generous donation to the Central Coast community.
"It's quite an amazing story how they called in about two months ago and we were having a discussion about Central Coast and its wonderful marine environment and they were telling me how much they loved it.
"By the way we've got a sculpture, would you like it?
"And I thought what is this man talking about… now we believe it's the biggest shell in Australia, and we have people working on proving it's the biggest Triton shell in the world.
"It's a first for the Central Coast, and as far as I know it's our first big thing, but it's a very accurate depiction of what these creatures look like," Asquith said.
Previously, Christopher Diaz were both students of a year-long art study at The Michoutouchkine and Pilioko Foundation in Vanauatu where they studied art and traditions from across the Pacific.
They were introduced to the beauty of the ocean by Aloi Pilioko, a renowned Vanuatuan artist, and since then they have learnt as much as they could about the ocean, the creatures that inhabit it and they way humans have an impact on marine ecosystems.
The pair currently reside on the Central Coast, and they plan to continuously strive to capture the essence of the world's beauty through sculptures, wall art, mosaic art and painting, all with the aim of connecting more people to nature.
The Central Coast Marine Discovery Centre is an ECO Certified tourist destination located in Terrigal that specialises in teaching visitors about the marine life that call the Central Coast home.
It was founded in 2005 to promote marine and coastal education, sustainability, tourism and enjoyment of coasts and catchments.
It also offers a range of fieldwork and excursion programs for primary and secondary schools where students can gain a hands-on experience, collect data, and explore coastal and marine environments.
WHAT YOU CAN DO
Visit the Central Coast Marine Discover Centre and see the sculpture for yourself https://www.ccmdc.org.au/
Take a more active interest in the state of our marine environment via the Australian Marine Conservation Society https://www.marineconservation.org.au/
Or become a citizen scientist and get involved with a local WaterWatch group https://waterwatch.org.au/