Read Time:
6 Minute, 3 Second
The world's richest one percent have accumulated as much wealth since 2020 as the rest of the world put together and that's why Oxfam wants to see them taxed at up to five percent.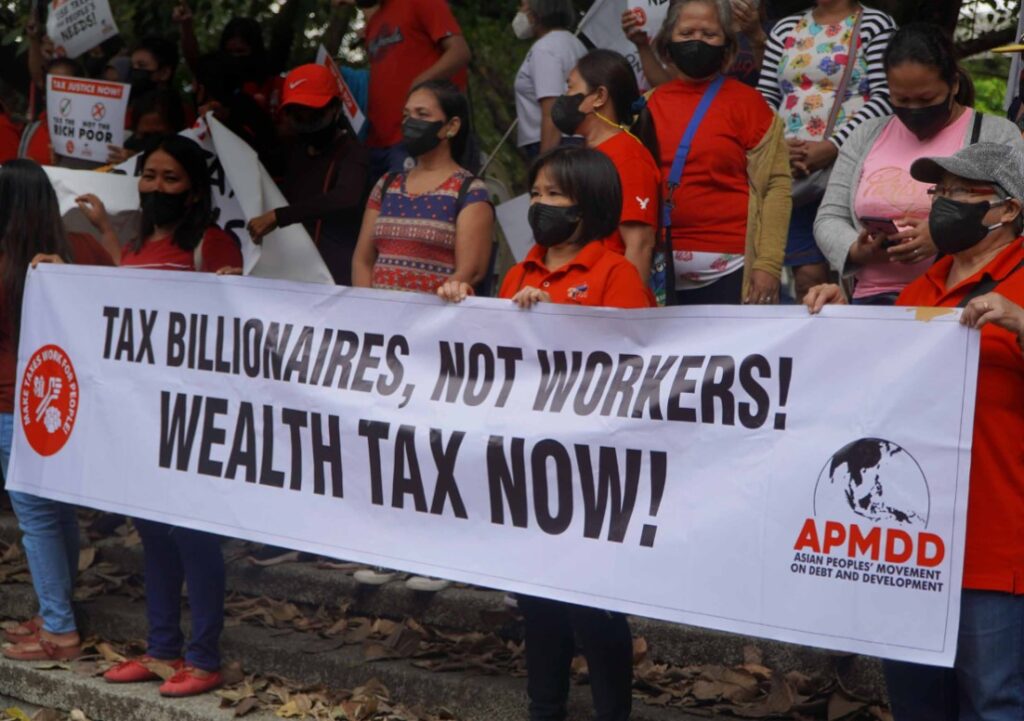 By Jacquelene Pearson
Over 1.7 billion workers are living in countries where inflation is outpacing wages and yet, according to Oxfam, billionaire fortunes and growing by $2.7 billion a day. A tax of up to five percent on the world's multi-millionaires and billionaires could raise $1.7 trillion a year and that's enough to lift two billion people out of poverty.
During the COVID pandemic, the very rich have become dramatically richer, according to Oxfam, corporate profits have hit record highs and there has been an "explosion of inequality".
"We are living through an unprecedented moment of multiple crisis. Tens of millions more people are facing hunger. Hundreds of millions more face impossible rises in the cost of basic goods or heating their homes. Climate breakdown is crippling economies and seeing droughts, cyclones and floods force people from their homes," Oxfam comments as it releases a new report, Survival of the Richest, on the first day of the World Economic Forum in Davos, Switzerland.
According to the report, taxing the rich is vital to addressing this "unprecedented polycrisis and skyrocketing inequality. Taxation of the richest has been far higher in recent history, is very popular and "claws back elite power and reduces not just economic inequality, but racial, gender and colonial inequalities", Oxfam proclaims.
The report lays out how much tax the richest should pay, and the practical, tried and tested ways in which governments can raise such taxation. It shows how taxing the rich can set human society on a path to "a more equal, sustainable world free from poverty".
Elon Musk, according to the report, who is one of the world's richest men paid a true tax rate of just over three percent between 2014 and 2018. Aber Christine, a market trader in Northern Uganda who sells rice, flour and soya makes $80 a month in profit and pays 40 percent tax.
The leaders meeting right now in Davos know the situation. The World Bank has told them. In 2022 it reported that "we will fail to meet the goal of ending extreme poverty by 2030, and that 'global progress in reducing extreme poverty has come to a halt,' amid what it said was likely to be the largest increase in global inequality and the largest setback in addressing global poverty since World War II".
The IMF is forecasting that a third of the global economy will be in recession in 2023, according to Oxfam, and "for the first time, the UNDP has found that human development is falling in nine out of 10 countries."
Whole nations are facing bankruptcy, with debt payments ballooning out of control, Oxfam reports. "The poorest countries are spending four times more repaying debts – often to predatory, rich, private lenders – than on healthcare. Many are also planning brutal spending cuts. Oxfam has calculated that over the next five years, threequarters of governments are planning to cut spending, with the cuts totalling $7.8 trillion dollars."
According to an Oxfam analysis of Credit Suisse Data, the richest one percent have captured almost two-thirds of all new wealth. This is six times more than the bottom 90 percent of humanity.
The report continues: "Billionaires have seen huge gains during the pandemic. A flood of public money pumped into the economy by rich countries, which was necessary to support their populations, also drove up asset prices and wealth at the top. This meant that in the absence of progressive taxation, the super-rich pocketed unprecedented fortunes."
"Corporate price profiteering is driving at least 50 percent of inflation in Australia, the US and Europe, in what is as much a 'cost-of-profit' crisis as a cost-of-living one," the report says.
"The very existence of booming billionaires and record profits, while most people face austerity, rising poverty and a cost-of-living crisis, is evidence of an economic system that fails to deliver for humanity. For too long, governments, international financial institutions and elites have misled the world with a fictional story about trickle-down economics, in which low tax and high gains for a few would ultimately benefit us all. It is a story without any basis in truth," it says.
Oxfam wants governments around the world to do some serious billionaire busting by reforming labour laws, stopping the privatisation of public assets, and CEO remuneration but for starters, "Oxfam believes that, as a starting point, the world should aim to halve the wealth and number of billionaires between now and 2030, both by increasing taxes on the top one percent and adopting other billionaire-busting policies. This would bring billionaire wealth and numbers back to where they were just a decade ago in 2012. The eventual aim should be to go further, and to abolish billionaires altogether, as part of a fairer, more rational distribution of the world's wealth."
So who is currently at the World Economic Forum and what are they likely to be talking about?
A scan of the program for the annual meeting of the World Economic Forum does not immediately reveal a session on taxing the rich.
The World Economic Forum is, in fact, the International Organisation for Public Private Cooperation which has echoes of privatization of public assets and corporate funding of public infrastructure. Its current focus areas are mastering the fourth industrial revolution, solving the problems of the global commons and addressing global security issues. Poverty and inequality appear to fit into the global columns column!
The World Economic Forum is attended by world leaders and what the global not-for-profit refers to as "the Forum Members community" that "represents outstanding firms from around the globe that are among the world's top innovators, market shapers, disruptors, including niche market leaders and regional champions. They are businesses of established influence that continue to help growing economies thrive, contribute to societal prosperity and are transforming into global leaders in their industries and regions. Together, they form one of the Forum's key pillars of global business and address urgent issues, explore emerging trends and help facilitate the Forum's mission of improving the state of the world."
If you want to follow the Davos gathering you can tune in here.
Will Elon Musk be there? No, in fact it has been reported that nine out of the 10 richest people on the planet will not be there. Gautam Adani, Chairman of India's Adani Group and the third richest person in the world according to Forbes Magazine will be there.
Oxfam has the final word for today: "We need to reimagine, reinvent and repurpose our economies to face these crises, in order to urgently build a more equal world and save our planet. In particular, we need to relearn the lessons of our own history, when the rich paid their fair share of tax and those taxes helped fund the expansion of rights such as universal access to healthcare and education."