Read Time:
12 Minute, 7 Second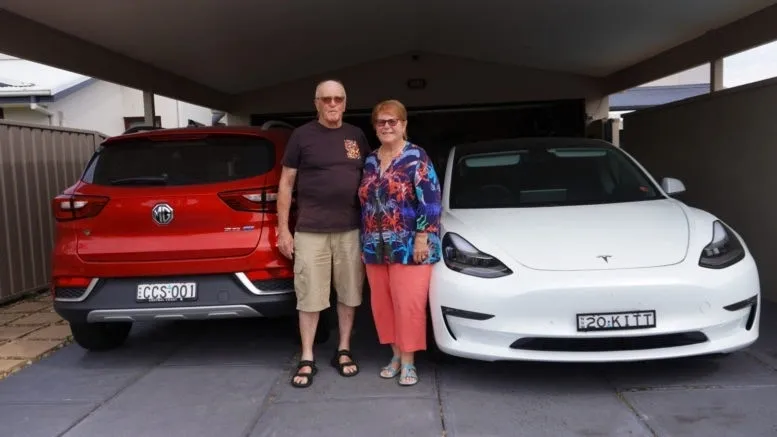 As the Labor Government passes new laws for a 43 percent emissions reduction target, Electric Vehicles (EVs) have a part to play, but how long will it take to get combustion engine vehicles off Australian roads, and what can be done to speed up this transition?
By Harry Mulholland
According to Climate Council Australia (CCA), we rank second last in the latest American Council for an Energy Efficient Economy's (ACEEE) International Transport Emissions Scorecard which can be attributed to relatively lax emissions regulations on our cars, trucks and buses, as well as longer average distance travelled and a low utilisation of public transport.
CCA found cars alone in Australia are responsible for 50 per cent of all transport emissions, releasing similar carbon emissions as Queensland's entire coal and gas fired electricity supply.
To help speed up this transition to net zero, the new federal government plans to introduce policies aimed at making EVs more affordable, as well as creating policies encouraging Australian companies to manufacture EV components locally.
The first step was the introduction of the Electric Car Discount scheme on July 1 which exempts EVs that are priced under the luxury car tax (LCT) threshold of $79,659 from attracting a five percent import tariff, and from fringe benefits tax.
The Labor Government says these exemptions will encourage car manufacturers to import and supply more affordable models in Australia.
While this sounds like a step in the right direction, the import tax exemptions only cover three models built in the UK and Germany. All other EVs under the LCT are built in countries Australia has a free trade agreement with such as China, South Korea, Japan and the US, so it won't help the prices of EVs from those countries.
The import tax will also still be charged on European sourced EVs over the LCT threshold, making no difference to the price of most EVs currently available.
Climate Change and Energy Minister, Chris Bowen, said transitioning to electric vehicles can lower transport costs, improve health outcomes, and lower greenhouse gas emissions.
"Transport emissions account for 19 per cent of Australia's emissions," Bowen said, "with 84 per cent of that 19 per cent coming from road and transport emissions.
"The Albanese Government is developing a National Electric Vehicle Strategy, to ensure a transition to new vehicle technology works for all Australians," he said.
"We will be working with governments, unions, industry and the community to consider our collective measures to reduce transport emissions and contribute to meeting our 43 per cent reduction target by 2030 and our commitment of net-zero emissions by 2050," Bowen said.
The federal government will also be increasing the number of charging stations, which they say is currently a major barrier for EV adoption in Australia.
Labor and the NRMA are investing $39.3 million each to build 117 fast charging stations on highways around Australia, making it possible for EVs to drive from Adelaide to Perth, Darwin to Broome and on to Perth, Broken Hill to Adelaide, Port Augusta to Darwin and Brisbane to Mt Isa and Tennant Creek.
NRMA Group CEO, Rohan Lund, said it would work with the new federal government to deliver the nation's largest fast charging network.
"We fundamentally believe that regional Australia should not be left behind as this exciting transition happens," Lund said.
"Australia is a massive country and that presents some real challenges to ensure that we are ready for the inevitable influx of electric cars.
"The work of expanding that network and ensuring Australia has the infrastructure it needs must occur quickly."
The federal government has also committed to working with the state governments to roll out Hydrogen Highways across the country to help decarbonise trucks and buses, and they have already committed $20 million each to New South Wales (NSW) and Victoria, and have opened the opportunity to the other states and territories.
This could see 16 hydrogen refueling stations built on some of the country's busiest freight routes.
On a state government level, NSW has committed $171 million to update the road network and build high speed charging stations, as well as electrifying government fleet vehicles, and introducing a road user charge for EV users from 2027.
NSW residents purchasing an EV will also be eligible for a $3,000 rebate and exempt from stamp duty.
In Queensland, the state government has committed to a $10 million co-fund to build more public chargers and, like NSW, will transition the government fleet to EVs.
Queensland buyers are eligible for a $3,000 rebate on an EV priced up to $58,000, as well as discounted registration costs.
In Victoria, the state government is committing $46 million in subsidies to EV buyers, $19 million to accelerate the roll out of EV chargers, $20 million for an EV public transport bus trial, $10 million to replace the Victorian Government fleet with EVs, $5 million to establish a Commercial Sector Zero Emissions Vehicle Innovation Fund and $300,000 for an 'EV readiness in new buildings' study.
Victoria is also offering a $3,000 rebate for 4,000 brand new EVs priced under $68,740.
At present, ACT is leading the pack on the EV roll out offering EV buyers a range of incentives to make the switch to a zero emissions vehicle.
Currently EV buyers are eligible for two years of free registration with a 20 per cent discount after that, they are also exempt from stamp duty and can receive a zero interest loan of up to $15,000 to invest in an EV.
The ACT Government is also planning to build at least 50 EV chargers across Canberra, and to introduce a fleet of electric buses.
In South Australia, the state government is committing $53.25 million to deliver their Electric Vehicle Action Plan which aims to reduce greenhouse gas emissions by 50 per cent by 2030.
They will be doing this through making electricity prices competitive with the rest of the nation, making it affordable to charge an EV at home, as well as building charging stations across the state.
South Australian EV buyers will be eligible for a $3,000 subsidy, and three years of free registration.
Down in Tasmania, the state government has committed $250,000 to roll out a statewide charging network, and EV buyers pay no stamp duty when purchasing brand new.
Western Australia has invested $21 million into its EV Strategy which will help build charging stations, and electrify most of the government fleet.
EV buyers in Western Australia are also eligible for a $3,500 rebate.
In the Northern Territory, $300,000 has been allocated to providing a $1,000 grant for EV owners to install a charger at their home or business.
For buyers, the NT Government will waive the stamp duty on EVs up to $50,000.
While all these measures are certainly helping the Australian population transition to an EV future with EV annual sales jumping from just under 7,000 in 2020 to nearly 21,000 in 2021, the federal government is planning to do more to reach its 43 percent emissions reduction target by 2030.
The first step to reaching this target is introducing a national CO2 regulation for all vehicles in line with the Federal Chamber of Automotive Industries' (FCAI) voluntary emissions standards.
Speaking to the Sydney Morning Herald, FCAI Chief Executive, Tony Weber, said the industry group wanted to see significant emissions cuts in the sector but there were constraints on the number and costs of low emissions cars available.
"We want a sensible debate predicated on the availability of technology, price points and what consumers want to buy, not some sort of debate created around we need to do something by 2050.
"We want to transition to low emissions technology but you've got to put it in the context of the country you're in," Weber said,
New research from the Australia Institute shows that $5.9 billion in fuel costs would have been saved, and a year's worth of emissions from domestic flights would have been avoided, if fuel efficiency standards were introduced in 2015.
They say introducing these standards will save motorists some money at the bowser, reduce emissions, increase the availability of EVs and reduce Australia's reliance on foreign oil.
The Australian Institute Climate and Energy Program Director, Richie Merzian, said as the fuel excise cut nears an end, policymakers have an opportunity to save motorists money at the petrol pump by introducing an average efficiency standard for new cars in Australia.
"Australian motorists are the victims of having one of the world's least efficient and most polluting car fleets, and it's costing us every time we fill up at the petrol pump.
"Fuel efficiency standards are a widespread and modest policy mechanism used globally to ensure new cars are more efficient and less polluting.
"Previous attempts to introduce fuel efficiency standards in Australia have been marred by disinformation and outright lies.
"Unfortunately it is everyday Australians bearing the cost.
"Australian motorists have paid billions more for expensive foreign oil to fuel gas guzzling cars which have been rejected by the rest of the world.
"The Albanese Government has a golden opportunity to implement robust fuel efficiency standards in line with Europe.
"The policy is popular, helps Australians with the cost of living, and will help drive the uptake of cleaner vehicles," Merzian said.
Currently the benefits of owning an electric car include zero tailpipe emissions, they are cheaper to run and maintain compared to an internal combustion engine car (ICE), they often have more storage space.
Some cons stopping everyday Australians from buying a battery powered car include the higher cost of entry, range limitations, long recharge times, limited charging infrastructure, and an overall lack of models available in Australia.
According to the NRMA and PwC Australia, EVs charged from fossil fuel powered electrical grids are still better for the environment compared to an ICE car.
Their modelling shows that the average new ICE car emits 185 grams of CO2 per kilometre compared to just 98 grams for an EV charged via the grid.
EVs are only worse for the environment when it comes to manufacturing them compared to an ICE car as mining raw materials like cobalt and lithium, to running factories and transportation is much worse for an EV, but studies from the Massachusetts Institute of Technology Energy Initiative show that EVs more than make up for this over the lifespan of the vehicle.
Larry Lutz and Lynette Wilcox-Lutz from the Central Coast in NSW made the switch to the EV lifestyle in late 2019 when they purchased a Tesla Model 3.
The pair loved the Tesla so much they ended up buying a MG ZS EV in early 2021.
Larry and Lynette said they love the zero emissions way of life, but more can be done to encourage others to buy an EV.
"It was the only thing I wanted when I retired, we'd been overseas, so we decided that we were going to get an electric car.
"It's a fantastic driving experience, the biggest difference I have noticed is the smell.
"I moved my old car from the driveway and thought that it's stinky.
"At first, I had range anxiety about how much it would take to get to Wollongong and back home, but you find so many chargers on the road when travelling that you just stop and charge for an hour and walk around and then go again.
"You just need to plan your trips with where the chargers are located," Lynette said.
The pair are currently on a road trip to Cairns in their Telsa, and Larry said the charging infrastructure has been okay, but it could be better.
"The charging infrastructure is on the Bruce Highway, but other than that there is nothing.
"On the trip up, we only found one charger that wasn't working but other than that there have been no issues.
"It's just a slow trip with charging and waiting for a charging bay to be available.
"New South Wales now, it's much better for travelling.
"You can go out west to Dubbo and Nyngan and even all the way out to Brewarrina without any issues," Larry said.
The pair charge their Evs at home using a Tesla battery that stores power collected from their solar panels.
Larry said they can charge the 75kw battery in the Tesla from 20 percent to 80 percent in just three and a half hours, and the 44kw battery in the MG in five hours from the comfort of their home.
WHAT YOU CAN DO
For Australian motorists looking to make the switch to an EV, there are options in the market that can suit most people's needs.
The price of entry into the EV world is $44,385 BYD Atto 3, a compact SUV that can travel 320 kilometres on a single charge.
The MG ZS EV compact SUV is also another good entry point with a starting price of $47,000 and a range of 320 kilometres.
For those who are looking for a more gradual transition to a fully electric car, hybrids and plug-in hybrids (PHEV) are a great start as they offer better fuel economy and less tailpipe emissions than an ICE car.
PHEVs are the best of both worlds with a small, rechargeable battery pack that allows drivers to travel on electricity for small commutes with a petrol engine to back it up on longer journeys.
The cheapest PHEV on sale in Australia is the MG HS PHEV, a midsized SUV that combines a small turbocharged petrol engine with a 16.6kw battery pack that offers 52 kilometres of pure EV range, and it is priced at $47,000.
Public transport is also a great option for commuters, particularly in metropolitan areas, wanting to reduce their emissions.
Buses, trains, trams and ferries are great ways to get around, and relatively inexpensive compared to driving, however according to Globehunters, Australia has the second most expensive public transport fees in the world with the average commuter spending $104 a month.
E-Bikes are also an option for short commutes, however the only ones that are permitted in Australia are power assisted e-bikes such as the Fluid Bolt Commuter E-Bike which has a 250w motor and a 10amph battery that provides a 60 kilometre range for the rider.