Read Time:
6 Minute, 59 Second
The waste disposal method of fly ash, generated by coal-fired power stations, has been found to exacerbate respiratory diseases, according to health experts.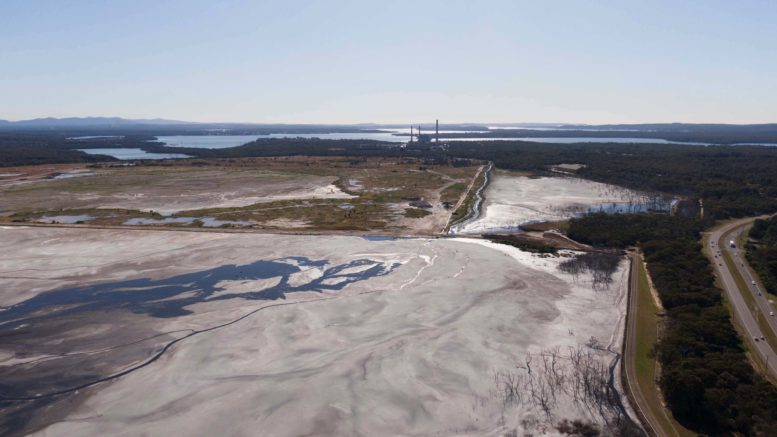 By Alan Hayes*
Dry, fine, toxic particles left over from burning coal at the Vales Point power station is being swept up into the lungs of local residents, experts say. People living in the northern suburbs of the Central Coast are sitting on a lethal time-bomb of toxins that have been linked to asthma, cancer, respiratory disease, heart disease and stroke.
At most coal-fired power stations [in Australia], and Vales Point is no exception, coal ash is mixed with saline waste water going through the generation system, mixed with some fresh water from onsite storage dams, and then pumped into an enormous dump site, creating a lethal cocktail of mercury, lead, arsenic, selenium and chromium [known as wet disposal].
The coal ash dump at Lake Munmorah has already caused water contamination causing pollution to aquatic ecosystems that resulted in an unprecedented fish kill. Despite concern from a local politician, the deadly environmental event seems to have been lost in a black hole of bureaucratic cover up.
Of greater concern is the fatal impact of the Vales Point Power Station coal ash dam on human health, in particular airborne pollutants from the fly ash.
A recent study in the United States, which was evaluating air pollution, found epidemiological evidence connecting it with Parkinson's and Alzheimer's disease. Ray Dorsey MD, professor of neurology at the University of Rochester (NY), said evidence was mounting that "air pollution may be an important causal factor in Parkinson's and especially Alzheimer's disease."
Despite the mounting evidence of the effect that airborne pollutants have on human health [including fly ash] and the NSW Government's Legislative enquiries that were due by December 2022, into this harmful impact, there has been a lack of commitment for any in-field and in-vivo heavy metal audit studies by the EPA or Public Health Units for an epidemiological/health risk exposure report of residents.
All that has emerged from relevant authorities is incomplete and scientifically indefensible misleading air quality data.
It has been reported that the Central Coast had one of the highest rates of avoidable respiratory ailments and deaths in Australia, due primarily to the inhalation of fine airborne particulates generated from coal-fired power stations.
In March 2007 the Population Health Profile of the Central Coast NSW Division of General Practice said: "avoidable deaths from respiratory system diseases were already above State and Australian averages and that Central Coast children have higher rates of asthma".
PM2.5 levels of lead, arsenic, chromium, and zinc were significantly enriched at some locations by factors of 100–3000 compared to crustal concentrations and levels of metals in PM2.5 and PM10 exceeded health guidelines at multiple sites.
Inhalation or ingestion of the toxins in fly ash can have impacts on the nervous system, causing cognitive defects, developmental delays, and behavioural problems, while also increasing a person's chance of developing lung disease, kidney disease, and gastrointestinal illness.
Ongoing heavy metals toxicities in airborne particles from the stacks of these coal power stations are also medically known to affect children's asthma rates, IQ, school performances and juvenile criminal reoffending.
According to a stakeholder report by Future Sooner Group members, Associate Professor Ian Charlton MB BS MD, Gary Blaschke OAM, Joseph Halwagy B.PHARM FSHP MBA and Dr Merlene Thrift MB BS FACNEM: "In 2019 Vales Points Coal fired Power Station produced a little over 8 million megawatt hours of electricity, and emitted 21 million kilogram of Nitric Oxide (NOx).
This represents an emission rate by Vales Point of 2.6 Kilograms of NOx per produced megawatt hour.
By comparison, the US coal power generation emission rate of NOx in 2017 was 1.4 pound (0.6 kg) of NOx per megawatt hour, less than quarter of Vales Point emission rate!
"Seminal research published by Sydney and NY universities in August 2022 of 2.5m grade 2-8 students (9.5m students' years between 2001-16) in North Carolina showed a rate reduction of -0.02σ in school students' performance /million megawatt hour in the US.
"This is likely to be a significant underestimate for Australia's excessively high NOx emission from our local power stations and given the established linear relationship between emission rate of NOx/megawatt hour and school student performances."
The annual air pollution estimates provided by Vales Point Power Station suggest that the amount of toxic material being emitted, and drifting over nearby and distant residents, raises serious questions about the credibility and validity of the Vales Point data.
The problem is that the EPA licenses covering Vales Point allow them to emit up to 850mg of NOx/m3, 99% of the time, and emit up to 980mg/m3 for 1% of the time. This is 6 times the European Union's annual average limit for existing coal power stations of just 150mg/m3 and 4 times the United States annual average limit.
More concerning, a January 2022 Federal Government report showed Vales Point power station emissions for pollutant particles PM2.5 tripled and PM10 more than doubled during the 2019-20 financial year, even though it had an 8 per cent reduction in energy generation.
Even more alarming, at the northern end of the Central Coast there is a mosaic of six cancer clusters – lung, kidney, head and neck, colorectal, liver and pancreatic.
While a lot of attention is given to the mining and burning of coal that leads to huge carbon emissions, the dangers of fly ash, that insidious residue left after coal is burnt in thermal power plants, has received less public attention, despite the risks to human health and to the environment.
So, what is the answer?
Solar thermal power [heliostat] – a renewal, non-polluting, form of energy and a technology for harnessing solar energy to generate thermal energy for use in industry, and in the residential and commercial sectors, and providing endless amounts of energy, free of charge with no CO2 emissions during operation twenty-four hours a day.
Already the world has embraced this heliostat technology – the Clarke Mountain facility in the Mojave Desert in California powers fifty per cent of that State with inexpensive electricity. A solar thermal power station provides baseload power and electricity for 600,000 homes in the Greater Seville area of Spain and in Newcastle the CSIRO has a solar thermal electricity plant operating.
Until recently there was a test solar thermal power facility in South Australia until government funding was pulled.
Dominic Zaal, from the Australian Solar Thermal Research Institute, said that the cost of building a solar thermal power station was far less than building a coal-fired power station, and would provide abundant and inexpensive electricity.
"Australia has more sunshine than any other country in the world," Mr Zaal said, "so, why aren't we powering the country with a sensible approach to renewable energy."
"The technology is already there," he said.
It's time government invested in the obvious – NSW is facing an energy crisis. Liddell Power Station has closed and Eraring Power Station will close in two years, and between them they provided forty per cent of the state's power – so, why aren't we changing? Coal and gas exports, that's why!
Converting aging coal-fired power stations to gas will not solve the problem, it will only maintain the status quo. "Burning gas may produce fifty per cent less carbon," Mr Vale said, "but inevitable leaking pipes to transport the gas will keep CO2 levels the same as burning coal."
Australia was once called the clever country but we haven't been clever for a long time. We've allowed carbon and 'King Coal' to become a national god. It's time to embrace the future, a renewal future that provides abundant clean energy and finally eliminates the toxic health problems foisted upon people from burning carbon – a future that leads, protects the environment and more important puts the health of people first.
Alan Hayes is the publisher of the Village Grapevine and Grapevine News Online, he is a best selling author.