Read Time:
16 Minute, 39 Second
The people of the Northern Rivers are living in climate crisis right now – rebuilding after two enormous floods and listening to the latest weather warnings for the next catastrophe. Jacquelene Pearson takes a glimpse at how they are coping and what the NSW and Federal Governments are doing for them.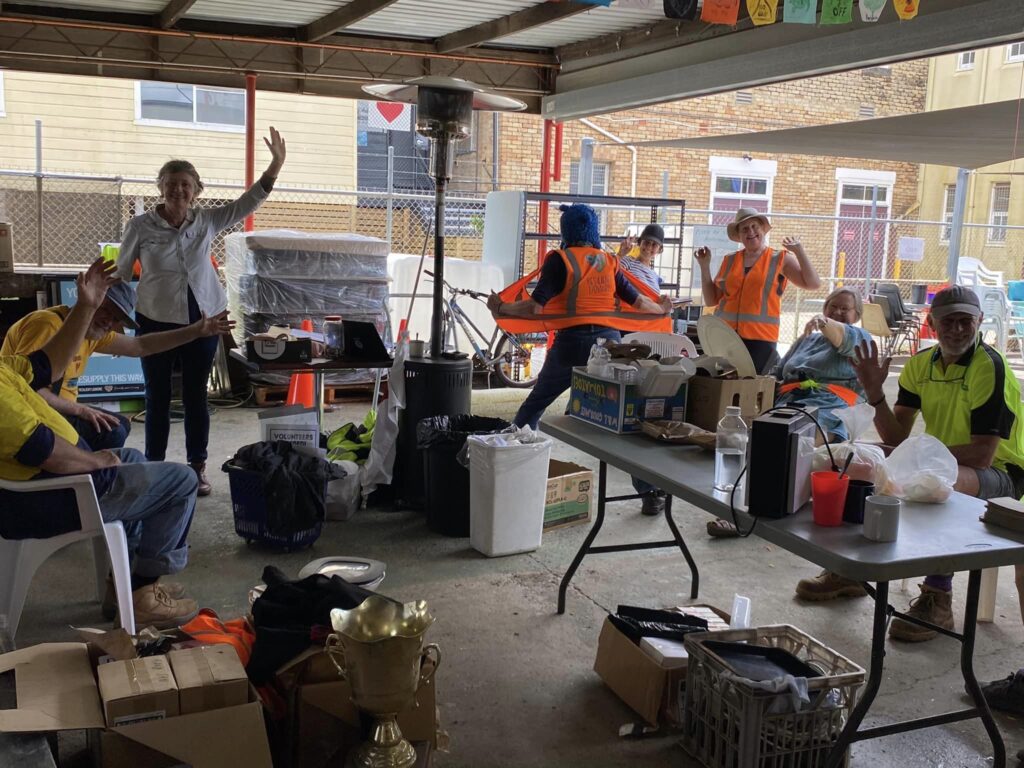 The Resilient Lismore Facebook Group has over 32 thousand members who exchange information and help each other with everything from dealing with petulant insurance companies through to the latest rescue of a dog from floodwaters.
"Does anyone have a portable air-conditioner that I could borrow for a few weeks?" asks Heather. "I'm living in emergency accommodation in South Ballina and the AC has carked it, the caravan park manager is trying to get it fixed but the AC mechanics are booked solid and he has no idea when it will be fixed."
Harper wants to warn fellow residents about what they consider to be the latest scam going around town: "There is a local real estate agent who has been approaching people since a week after the flood encouraging them to sell their properties. This real estate agent is now soliciting services on behalf of a lawyer in Sydney, who states they can negotiate a better buy-back deal from the government with a fee of $18,500 if you are successful…"
These posts reveal that the people of the Northern Rivers haven't 'moved on' from the catastrophic events of February and March. Many are still in emergency accommodation, still fighting with their insurance company about whether their flood-damaged homes are habitable. Still trying to find out what services, assistance, information is available to help them.
We've asked Resilient Lismore for an interview or for some more information about how things are on the ground, in the mud.
One of the 'purposes' of the group is 'to create future flood preparedness' – the people of the Northern Rivers know this is the beginning of living with the consequences of climate change and they have learned the hard way that they cannot depend on the NSW Government or the Commonwealth Government or their home and contents insurance policy to be there in their next hour of need.
Follow the money
So if the community has taken it upon its own shoulders to figure out how to prepare for the next flood, what's the state government up to?
The NSW Government has responded to the crisis by creating the Northern Rivers Reconstruction Corporation.
The NRRC comes under the Department of Regional NSW and the Deputy Premier and Minister for Regional NSW, Paul Toole. Its web page clarifies that it is a Development Corporation.
According to the web page: "The Northern Rivers Reconstruction Corporation (NRRC) is a development corporation established following the 2022 floods across Lismore and Northern Rivers region of NSW. It formally came into effect from 1 July 2022. The NRRC manages the rebuilding of these communities by coordinating planning, rebuilding and construction work across multiple government agencies.
"The NRRC works with the Northern Rivers Administrative Group in the following local government areas: Ballina; Byron; Clarence Valley; Lismore; Richmond Valley; Tweed; and Kyogle … The potential inclusion of additional, neighbouring LGAs, will be considered as damage assessments are undertaken.
"The NRRC operates as a 'front door to government' for all reconstruction and development activities in the Northern Rivers. It sets and implements reconstruction priorities in the region and works with government agencies and departments to deliver those priorities quickly," the NRRC webpage tells us.
In early August Minister Toole announced the appointment of the advisory board of the NRRC – eight local and technical experts.
Minister Toole said board members had the knowledge and practical skills needed to guide the Northern Rivers Reconstruction Corporation (NRRC). "The board will advise on the flood recovery work already underway, providing on-the-ground feedback on the rebuild of large and complex infrastructure," Mr Toole said. "We're not just building back for now – this is about future-proofing communities by ensuring they are better prepared for future disasters.
"The board will actively engage with the community to ensure their views are heard and implemented."
We learn that much of the NRRC's focus will be driven by the recommendations from the independent flood inquiry, led by Professor Mary O'Kane and Michael Fuller, which was, in August, still being considered by Government.
The list of members for the NRRC Advisory Board reads like an honour roll of senior NSW public servants and consultants with a few local government luminaries thrown in, a First Nations presence and a representative from the Insurance Council of Australia.
The Point has asked Minister Toole's office for information about whether or not (and, if so, how much) advisory board members are paid as it is not clear from publicly-available information.
The NRRC is headed up by CEO David Witherdin, who is based in Newcastle, and has a team of around 35 personnel working on the long-term reconstruction of the region.
Progress to date
The NRRC advisory board has met three times since it was formed on 5 August. The Point expects it has had a fourth meeting in October but, at the time of writing, the minutes had not been published.
At its first meeting the board discussed the importance of stakeholder engagement and recorded that there was a need to "ensure community and stakeholder information is embedded as a core input to the work program of the NRRC".
The rollout of temporary housing was discussed, and the board agreed to hold an extraordinary meeting within weeks to focus on housing.
The board discussed an overview of the future works program and lessons from the Queensland Reconstruction Authority. Another highlight was that an Infrastructure Coordination Office had been set up within the NRRC to "coordinate public infrastructure requirements".
It had a master list of what would be needed for the next three years and we learned from the minutes that "a prioritisation process and framework has been adopted in consultation with NSW Government agencies and councils and a draft list will be complete by end August".
The second advisory board meeting took place on 1 September. We learned from the minutes that the NRRC has a Manager of Strategy and Reform, and a Manager of Communications and Engagement, both of whom attended with their CEO.
Temporary housing was on the agenda but there was no mention of the extraordinary meeting to focus on housing. The Point has asked Minister Toole's office whether that meeting occurred and, if it did, could we have the minutes.
The NRRC program delivery and risks was another agenda item, to quote: "It was discussed that the NRRC will deliver a strategic plan to articulate the overarching initiatives and deliverables and outline the impacts this will have on the decision making of the community. This will be presented to the next Board meeting… The NRRC will communicate with the community about the timing and delivery of the programs."
In terms of the outcomes of the independent inquiry, the need for a state-wide agency was discussed.
Regarding communication and consultation, according to the minutes: "The Advisory Board received an update on the principles that will guide the NRRC to engage with stakeholders and the community. It was noted that as the NRRC builds programs it is important to be clear on the path for engagement with community and stakeholder groups across the region." It is not clear from the minutes what, if any, actual stakeholder engagement had occurred by 1 September.
The Point has asked Minister Toole's office for some information about community engagement completed by the NRRC to date.
Moving on to the third advisory board meeting held on 29 September, all board members were present along with the CEO and seven staff members.
Their titles were: Executive Director, Strategy, Planning and Development; Executive Director, Program Delivery; Director Infrastructure Coordination Office; Director of Planning; Director Business Operations, Governance and Performance; Manager, Communications and Engagement; and a humble Business Support Officer, perhaps to take minutes.
An examination of positions vacant within the Department of Regional NSW reveals that a data analyst earns over $100,000 so we have asked the Deputy Premier to tell us (and you) how much executive directors, directors and managers earn.
"Prior to this meeting, the Advisory Board hosted a breakfast with local business leaders and discussed opportunities and challenges in leading the reconstruction of flood affected areas across the Northern Rivers," the minutes record.
The minutes do not mention any meetings with local residents.
The Infrastructure Coordination Office gave an update at the third meeting. Whilst still collating its master list of the region's infrastructure needs, the Board did learn that the ICO had, via the Water and Waste Water Program, enabled $15 million of repairs to the water and sewer utilities of the region, "with scoping and planning for the more significant recovery works across the region progressing well".
The Board also noted that over 4,000 inspections of flood damaged properties had been completed by the Flood Property Assessment Program.
A draft strategic plan was presented and the Board recommended that the NRRC needed to "develop a Roadmap for targeted consultation and communications with the community about the timing and delivery of NRRC programs."
Infrastructure NSW presented a Hawkesbury Nepean Flood Risk Management study and the Draft North Coast Regional Plan 2041 was discussed.
Resilient Land program
At the end of August, Minister Toole and Minister for Emergency Services and Resilience and Minister for Flood Recovery, Steph Cooke, distributed a joint media release to announce the launch of a program to identify land in the Northern Rivers that could be considered for potential future developments.
Minister Toole called it a critical step in the Northern Rivers recovery and rebuild effort to help ensure homes and businesses are more resilient to the impact of future disasters.
"We can't continue to build the way we have in the past, and this program will help ensure that we are planning and developing in a way that will protect lives and property by reducing risk as we move forward," he said.
"We need to know what land is available to help us engage with residents, businesses and developers about the long-term recovery planning."
Minister Cooke said reducing the risk of future floods required a change to the use of flood-prone land. "Having spoken to hundreds of residents and businesses owners in the Northern Rivers, I know today's announcement has been eagerly anticipated because it is an important step towards recognising sites for future development," she said.
The EOI would consider factors such as location away from high-risk flood and bushfire prone areas, land larger than two hectares, and proximity to existing towns with planned or enabling infrastructure including power, water, sewerage and communications.
Resilient Homes fund
Finally, on October 28, Prime Minister Albanese, along with NSW Premier Dominic Perrottet and relevant federal and state ministers announced the commencement of a scheme to assist home owners.
The $800 million package is expected to help about 2,000 homeowners in floodprone areas of the Northern Rivers.
It will enable them to raise, repair, retrofit or have their home voluntarily bought back
The voluntary buyback scheme will be offered to Northern Rivers residents located in the most vulnerable areas where major flooding would pose a catastrophic risk to life.
The Northern Rivers Resilient Homes Fund package will provide financial assistance of up to $100,000 for house raising or up to $50,000 for retrofitting for homeowners in areas where flood risk can be reduced by better building standards.
The NSW Government will provide $100 million to acquire land and open up new flood safe locations for future development, in partnership with the Northern Rivers Reconstruction Corporation via the EIO.
Eligible homeowners will be offered one of the three available measures, based on expert property assessments; flood impact severity data, safety risks, and potential future flood levels.
Prime Minister Anthony Albanese said that by retrofitting homes to make them more flood resilient, and moving those at most risk away from danger, communities can be safer during future flood events.
"We know that disasters are expected to become more frequent, and more severe due to climate change, and that's why we're working with the NSW Government to develop practical solutions to protect lives and livelihoods.
"We know this repeated, relentless flooding can be emotionally and financially draining and we want communities to know we will be there to support them now, and as they recover."
NSW Premier Dominic Perrottet said the Resilient Homes Program would help Northern Rivers' residents take further steps on the road towards recovery while also boosting community resilience in the long term.
"We are stepping up to provide options for residents to move out of harm's way and protect themselves…We will work with the Northern Rivers community to ensure repairs, retrofitting and voluntary buybacks are undertaken in a way that will better protect people and their homes from future flood events."
The $800 million package is comprised of the $700 million joint funding and the $100 million land acquisition program from the NSW Government.
Meanwhile in Lismore
Resilient Lismore moved into a new headquarters at 215 Keen Street – the old Trevan Ford Showroom.
"We enacted our flood plan and therefore packed up a little earlier than expected. This means there will be no face-to-face hub until we have moved: Monday, October 31."
"If you have a tool to return, hang onto it until Monday!
"We can't wait to see you at our new digs! No more working from a carpark! So fancy!"
In the days before their move, Resilient Lismore kept posting the latest flood warnings such as this one on October 25: "Good morning Lismore. Latest flood heights in this update from the Bureau of Meteorology: Minor Flood Warning for the Wilsons River at Lismore Issued at 9:38 am EDT on Tuesday 25 October 2022 Flood Warning Number: 10 MINOR FLOODING CONTINUING AT LISMORE Moderate to heavy rainfall from Saturday evening to early Monday caused river level rises along the Wilsons River and its upper tributaries. Minor flooding is occurring along the Wilsons River at Lismore, where a minor flood peak was observed during Monday evening. A Flood Warning is also current for the Richmond River at Coraki and Bungawalbyn…"
The NSW Energy and Water Ombudsman held a free Community Assistance Day on October 27, offering advice on dealing with energy and water providers and legal and tenancy issues.
The facebook group posted information about a free legal service hotline that flood-impacted residents can call for help. It started plugging the Resilient Homes package as soon as it was announced. It encouraged residents to complete a Southern Cross University survey.
It called for expressions of interest to join its own community advisory group. "Resilient Lismore is forming a Community Advisory Group to inform our work. This group will assist us with effective community engagement and will ensure that community perspectives and lived experience inform our ongoing recovery work, as well as our planning for possible future flood events. We are looking for members from flood affected communities. We are striving to ensure membership reflects our diverse community – age, gender and sexual orientation, cultural background and ability. Meetings will be 2.5 hours every 2-3 months, in person. Members will be given a sitting fee for their time on the Advisory Group."
And, finally, within the space of about five days, it called for expressions of interest from owner-occupiers who still haven't had essential plumbing restored to their homes since March. "Resilient Lismore is partnering with the Reece Foundation to restore essential plumbing services for Northern Rivers residents who have had their homes damaged by the recent flooding events.Through its network of qualified tradies, the Reece Foundation is scoping homes this week. Flood-affected owner-occupiers who need essential plumbing services restored in their homes are encouraged to apply. The work will be delivered in late January 2023. * Basic plumbing needs: Eg) hot water connection, toilets, sinks, water filtration."
Questions for the Minister
The Point's reading of the NRRC minutes and available press releases raised lots of questions for us so we've sent them to the Deputy Premier, Paul Toole, and we are looking forward to publishing his answers as soon as we receive a response. We are hoping they are good news for the long-suffering people of the Northern Rivers.
Here's our list of questions:
1. How many Northern Rivers residents are continuing to live in emergency accommodation?
2. What is the NSW Government doing to stop the Northern Rivers residents from falling victim to scammers promising access to funding for high fees (eg $18,000 for priority attention by the government to buy back a home)?
3. Is the scoping and planning of major recovery works complete yet?
4. What construction work has the Northern Rivers Reconstruction Corporation undertaken to date?
5. What are the NSW Government's current reconstruction priorities and timeframes in the Northern Rivers?
6. Are the eight members of the NRRC advisory board remunerated for their services and if so, how much each per annum are they paid?
7. How many advisory board members are Northern Rivers residents or have specialist knowledge of the Northern Rivers?
8. How is the rebuild of the region's large infrastructure progressing? Please give particular examples of projects underway, their $ value and timeframe for completion.
9. Why is the CEO of the NRRC based in Newcastle?
10. How many employees does the NRRC have? Please specify how many of those employees are Executive Directors, Directors and Managers? What are the NRRC's annual employee costs?
11. How many NRRC employees are located in the Northern Rivers on a full-time or part-time basis? How many live and work for the NRRC outside the Northern Rivers region?
12. Please provide examples of how the NRRC communicates with Northern Rivers residents so they are kept up to date with the recovery process?
13. According to advisory board meeting minutes, 4000 flood-impacted properties have been inspected. What is the total number of flood impacted properties in the region and what is the timeline for completion of inspections?
14. How many expressions of interest have been received under the Resilient Land Program. How much money is available for acquisition of suitable land? What is the timeframe for acquisition and rebuilding?
15. In relation to the recently-released Resilient Homes package, please confirm that the total number of homes to benefit from the scheme will be 2000. What will the criteria be to qualify?
WHAT YOU CAN DO
The NSW and Commonwealth Government say they have invested over $3.5 billion to help flood-impacted communities.
If you are a flood-impacted resident on the Northern Rivers, you can find out more about the work of the NRRC via www.nsw.gov.au/NRRC.
The Flood Property Assessment Program provides a first point of entry, with registered homeowners automatically considered for the Resilient Homes Program. Other homeowners can register their interest in the Resilient Homes Program by filling in the online registration form at https://www.nsw.gov.au/regionalnsw/northernriversreconstructioncorporation/resilientlandprogram
The NSW Government will contact eligible homeowners from mid-November
For detailed information about the program, including guidelines, visit www.nsw.gov.au/NRRC
If you want to register a job www.floodhelpnr.com.au or you can email [email protected]
Legal Aid NSW runs a Disaster Response Legal Service (DRLS) that provides free legal help for disaster affected individuals in NSW via the helpline on 1800 801 529 (9am to 5pm weekdays).
And for info about how to apply for the Resilient Homes program: https://www.nsw.gov.au/…/resili…/resilient-homes-program