Read Time:
4 Minute, 26 Second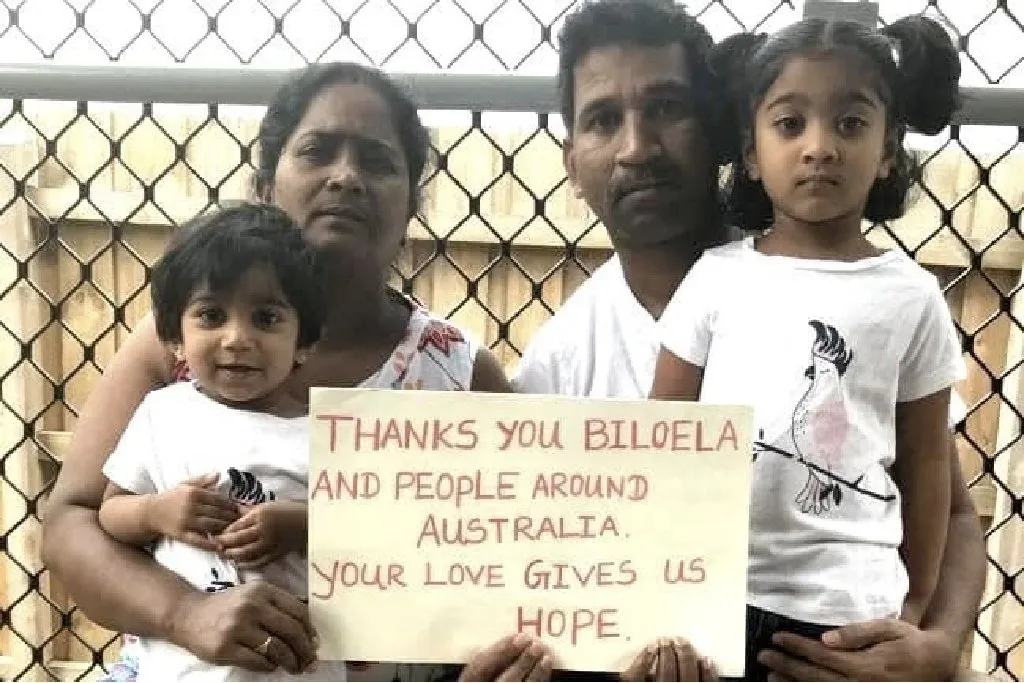 Angela Fredericks from the HometoBilo campaign is calling on as many people as possible to join an online event being held by the Tamil Refugee Council today, Saturday, July 31.
Tamil Refugee Council (TRC) is an Australia based grassroots Tamil organisation advocating for the rights of Tamil refugees in Australia, Malaysia, Thailand, Indonesia and India.
"With so much going on around Australia right now, it's hard to believe it is more than five weeks since Minister Hawke granted three month bridging visas to Priya, Nades and Kopika," Ms Fredericks said.
"But even though Minister Hawke's powers to grant visas are beyond the reach of any court, he chose to withhold a visa from four-year-old Tharni.
"This means Tharni is still in 'community detention'. This is how the politicians are stopping our beautiful family coming home to the safety of Biloela.
"When the three month bridging visas expire, the immigration guards could come for Priya, Nades and the girls and force them from Australia to danger, just like they've tried to do three times before.
This Saturday, can you join the Tamil Refugee Council's online event? They'll explain the dangers Tamil people like Priya, Nades, Kopi and Tharni face in Sri Lanka – and why it is so urgent that we get this family safely home to Bilo.
"Since Tharni was medically evacuated from Christmas Island to Perth in June, it feels like all of Australia knows that Priya, Nades and the girls are welcome, wanted and needed in Biloela.
"But hardly anyone heard that just a few weeks earlier, a British tribunal with the same status as the UK High Court threw out a flawed report Australian officials use to deny the dangers faced by Tamil people like Priya, Nades, Kopi and Tharni."
The Tamil Refugee Council calls itself the voice of Tamil refugees in Australia. According to the TRC, several thousand currently face the prospect of deportation.
"Many have endured Australia's regime of detention camps after fleeing Sri Lanka for their lives. If returned, they face state-based discrimination and persecution," The TRC website says. "The TRC engages in media liaison, individual advocacy, educational work and campaigning for the rights of individuals and the refugee population as a whole.
"Much of our work involves raising awareness of the particular challenges facing members of our community and campaigning to change Australian government refugee policy. For more than seven years, the TRC has built a record of consistent and unwavering service to the Tamil refugee community.
"The TRC was founded on 15 January 2011, in response to the mass arrival of refugees from Tamil Eelam ("homelands" situated in the north and east of Sri Lanka). Two years earlier, the Sri Lankan military brought to an end the country's 30-year civil war. Its genocidal offensive left tens of thousands of Tamils dead and hundreds of thousands displaced. Many came to Australia, desperately fleeing for their lives.
"Since its founding, the TRC has become a key defender of the rights and welfare of Tamil refugees by raising public awareness of their plight. We have also handled and assisted hundreds of individual cases. Our work has mobilised hundreds of Tamils and motivated thousands of others to campaign for refugee rights.
TRC activity falls into four categories: collective campaigns – real and lasting change comes through bringing people together in action; individual advocacy – the TRC helps link Tamil refugees with professionals, makes representations on behalf of individuals and provides assistance to the needy; research and education – we educate people about the history of Tamil oppression and the challenges facing Tamil people in Sri Lanka and the diaspora; international solidarity – with connections in Indonesia, Malaysia, India, the United Kingdom and other countries, we participate in the global struggle for Tamil rights.
"In addition to our specific work related to Tamil refugees, we campaign to: end Australia's discriminatory refugee policies; abolish mandatory detention of asylum seekers; build solidarity with progressive organisations; strengthen unity among refugees; rally the Australian community in support of refugees; break Australia's ties with brutal regimes; and defend oppressed nations' right to self-determination."
HometoBilo's Angela Fredericks said: "I've heard Priya and Nades' stories. I've seen the fear in their eyes when they speak about the dangers they escaped before finding peace and safety in Biloela. "But more people need to know exactly what's at stake for this family. That's why I'm inviting you to join this Saturday's online event on Zoom, hosted by our friends at the Tamil Refugee Council.
"As parents, Priya and Nades' greatest fear isn't for themselves – it's for the safety of their two beautiful, QLD-born daughters. "As Priya says: 'Kids should be free and happy. They should breathe freedom and live like birds'." Please tap here to say you'll join this online event on Saturday to learn why we are fighting so hard to get Priya, Nades and the girls safely home to a life of freedom in Biloela, where they belong. Please show you'll be there by tapping through to the Facebook event – if you don't have Facebook, you can still join the event this Saturday 31st July at 6pm AEST using this Zoom link: https://uni-sydney.zoom.us/j/88529909092