Read Time:
3 Minute, 6 Second
Broken Hill artist, John Hart, said he was amazed to be selected as a finalist in this year's coveted Dobell Drawing Prize.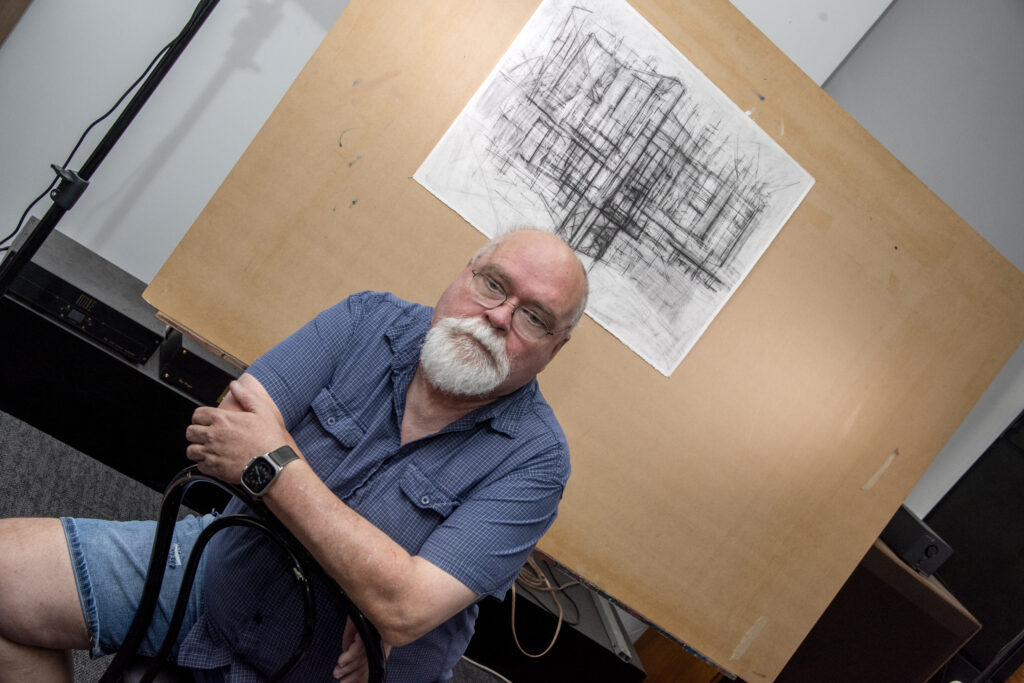 Story and photo by Noel Fisher
The art world in Australia is well acquainted with the Hart family. Patriarch Pro Hart is well known for shining a light onto art in the outback along with other Brushmen of the Bush.
Pro's children have certainly inherited his passion.
One of his sons, John Hart, is a well-known artist in his own right and this year the Broken Hill local has been selected as a finalist in the prestigious Dobell Drawing Prize.
Established in 1993 by the Art Gallery of NSW in conjunction with Sir William Dobell Art Foundation (SWDAF), for 20 years, the annual Dobell Prize for Drawing encouraged excellence in drawing and draughtsmanship among Australian artists.
In 2019, building on the legacy of this respected award, the National Art School partnered with the SWDAF to produce the inaugural Dobell Drawing Prize.
This new iteration of the Prize celebrates technical skill, innovation and expanded definitions of drawing.
Entering the prize this year was a first for John and he didn't expect to hear back after entering.
His entry was a departure from his usual style of tonal realism at a photographic level.
John said the inspiration for this work was influenced by images from his childhood, taking tours of mines donning the safety helmet and seeing how the mills and the process of mining worked.
"I was struck by the brutalist architecture of these industrial sites, and I thought how I could refer to them in a drawing without actually representing them as such, but get the feeling of the industry, of the buildings, of the pipes, of the tanks.
"All I'm doing is trying to break it down and just get the essential elements that occur and capture them without actually describing what the thing is, I thought that eventually came together quite well," he said.
Hart spent four years in Adelaide where he gained a Visual Art degree with honours in painting and graduated in the year 2000. It was, he said, a great experience and it taught him so much.
"It opened up so many possibilities, I tend to paint more than I draw but what I like about drawing is it is a way of seeing.
"You don't truly look at something until you try to describe it on paper."
John said that to draw, to break the subject down and undo that need to be super-representational, had been a bit tricky.
"The hardest thing I've ever done is not actually know what the outcome will be, where when you are doing tonal realism, I know exactly what the outcome will be.
"Drawing and this sort of experimentation scares the hell out of me.
"I was amazed [to become a finalist]. It's quite competitive. I sent off the submission and didn't really think too much more about it then I got an email that I was one of the finalists.
"I thought oh my god! I am happy that I got this far, there are some absolutely Olympic level artists as finalists.
"Being recognised by one's peer is the greatest honour, I don't expect to win it, but I'm thrilled to have gotten this far," he said.
The National Art School website is the best place to find more information about the 2023 Dobell Drawing Prize including a complete list of finalists, information about the judges and key dates.